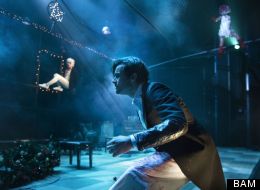 The Brooklyn Academy of Music embarks on their 30th annual Next Wave Festival this week. Founded in 1983 as a response to the growing number of artists looking for spaces to soundboard their work, BAM's Next Wave festival has grown into an innovative and culturally relevant breeding ground for the national and international performing arts scene. Following 32 discreet works of visual art and artistic projects in dance, theater, opera, and music over the course of four months, the festival is truly one of a kind.
"In 1983 we could prove that there was a group of American artists who were contemporary, non-traditional creators and performers who were being denied the opportunity to do their large scale work in the US, and the Next Wave Festival was created to respond to that situation," executive producer Joseph Melillo told The Huffington Post in a phone interview.
This fall, the annual festival proves no less groundbreaking -- including the first New York revival of Philip Glass and Robert Wilson's opera, Einstein on the Beach in 20 years, a panel with playwright Edward Albee on the "absurdist sensibility", and Anne Bogart's modernized production of Euripides' Trojan Women.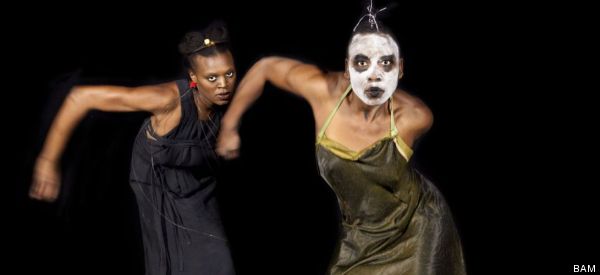 The Next Wave Festival, like New York's Crossing the Line Festival, provides an avenue for presenting leading international and domestic productions in a variety of styles. As Melillo added in our phone interview, the inaugural production for 'Next Wave' -- as well as for the new BAM Fisher building -- speaks to this growing multiplicity, where cooperation offers layered artistic visions. Eclipse, created through the shared vision of Jonah Bokaer and Anthony McCall, is described on the site as representing "the new paradigm about how the next generation is collaborating with artists from different artistic mediums."
All the performances are attempting to rise to the challenge of invigorating an audience with short attention spans and busy lives, while working with increasingly shrinking budgets. On this 30th anniversary, let's celebrate the endurance of the performing arts on the culture at large.
We've put together a slideshow of ten noteworthy performances from this year's festival. Let us know what you'd like to see in the comments section below.
BAM's 'Next Wave' Festival
The production, which has its US premiere at BAM, comes from Iceland's Vesturport Theatre. Set in a nursing home the production is a circus reimagining of Goethe's Faust. The music is produced by Nick Cave and Warren Ellis and promises to be an incredible spectacle. Find more information here. December 12 though December 16 at BAM Harvey Theater.

BAM welcomes the New York premiere of director Emanuel Demarcy-Mota's version of Rhinoceros. The Ionesco play is a "satire on social conformity and a commentary on fascism in pre-World War II Europe." A 'Next Wave Talk' follows the production on October 5th, featuring Emmanuel Demarcy-Mota, Edward Albee, Israel Horovitz, and Marie-France Ionesco. Find more information here. October 4 through October 6 at BAM Howard Gilman Opera House.

The first fully staged production of Robert Wilson and Philip Glass' Einstein on the Beach in 20 years comes to BAM as part of the production's yearlong international tour. The production is choreographed by Lucinda Childs and is presented in association with Pomegranate Arts. Find more information here. The production runs September 14 through September 23 at the BAM Howard Gilman Opera House.

The production, which has its New York premiere at BAM, is a love letter to Chekhov by acclaimed circus artist Daniel Finzi Pasca. A 'Next Wave Talk' will follow the production on November 18-- a panel with Russian-American fiction authors, Anya Ulinich, Ellen Litman, Irina Reyn, and Lara Vapnyar. Find more information here. November 14 through November 18 at the BAM Harvey Theater.

The production, which has its New York Premiere at BAM, is written by Steven Cosson and Michael Friedman and co-authored by The Civilians. Using primary sources (journals, letters, and music), the play explores the 1871 'Paris Commune:' "When working-class Parisians overthrew the French government and declared Paris autonomous." Find more information here. October 3 through October 7 in the Fishman Space.

The BAM commissioned production, follows Zimbabwean choreographer Nora Chipaumire, as she "interrogates the concept of the African female body as subjugated, colonial, tribal, and unknowable by constructing theatrical worlds and self-portraits of agency and power." Omar Sosa performs the music live, Eric Ting directs and Okwui Okpokwasili performs alongside Chipaumire. Find more information here. September 12 through September 15 at the Fishman Space.

The antiwar play, originally written by Euripides in 451 BCE, is being restaged by Anne Bogart and SITI Company. The play has its New York Premiere at BAM. Find more information here. November 28 through December 2 at BAM Harvey Theater.

The multimedia installation piece, created by Marc Bamuthi Joseph/Living Word Project, tells peoples' stories from four major American cities: Oakland, New York, Houston, and Chicago. "The piece is a call to celebrate life and recognize sustainable survival practices in urban America as a catalyst for cultural and creative engagement." Find more information here. October 31 through November 4 in the Fishman Space.

The multidisciplinary production follows a collaboration between choreographer Jonah Bokaer and visual artist Anthony McCall. Commissioned by BAM, Eclipse is the inaugural production for the new BAM Fisher Theater. Find more information here. September 5 through September 9 in the Fishman Space.

Inspired by The Grapes of Wrath, The Builders Association tells stories from the mortgage crisis in America. House/Divided "explores the changing meaning of home, homelessness, and place, both in the present and in the broader context of the American experience." Find more information here. October 24 through October 27 at the BAM Harvey Theater.

The new BAM Fisher is a "place where artists and community come together-and you, the adventurous audience, are an active participant." Find more about the space here.
BAM's Next Wave Festival continues through January 19, 2013. Tickets and more information may be found here.