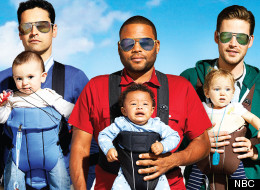 From all-time great child actors like Fred Savage as Kevin Arnold on "The Wonder Years" to current classics-in-the-making like Kiernan Shipka as the tortured Sally Draper on "Mad Men," there are plenty of great examples of underage actors who got it right, and the new Fall TV shows have several names to add to the list.
There's a precocious pre-teen on NBC's "The New Normal"; an adorable redhead on Fox's "Ben and Kate"; some more dramatic diminutive performances on ABC's "666 Park Avenue" and NBC's "Revolution"; and a pair of songbird sisters on ABC's "Nashville" that are destined for major fame beyond YouTube.
Click through our gallery to see the nine cutest child stars of Fall TV:
At just 11 years old, Bebe Wood is a scene-stealer in this very mature new show. She plays Shania, the wise-beyond-her-years 8-year-old of Goldie (Georgia King), the single mom looking to start a new life for herself and her daughter by being a surrogate for a gay couple.

15-year-old Samantha Logan plays Nona Clark, one of the youngest residents in the tony (but haunted) Manhattan apartment building in "666 Park Avenue," and it's also obvious that she got some intriguing abilities of her own. In a cast full of heavy hitters, Logan still manages to stand out.

Eight-year-old Maggie Elizabeth Jones commands attention in every "Ben & Kate" scene she's in. Luckily for us, it's quite a few scenes. In "Ben & Kate," Jones plays Maddie, Kate's daughter and often Ben's partner in mischief.

The young kids of "Guys With Kids" may not be old enough to walk or talk, but what's not to like about three cute babies? They get extra "Awww" points for having to listen to corny jokes and a laugh track at such a young age.

With only one scene in the first episode of "The Mindy Project," Avriella Ford left quite the cute impression. Playing the daughter of Anna Camp's character Gwen, Ford held her own in a scene with series star and creator Mindy Kaling and we can't wait to see them go toe-to-toe again.

Isabella Cramp plays Abby Weaver on "The Neighbors," where she displays hand-stand skills and shows off a high-pitched scream when her alien neighbor Dick Butkus reveals himself to be a green, gooey native of the planet Zabvron. Cramp is only 7-years-old, but she's already a veteran of TV shows including "Happy Endings" and "Mike & Molly," and as if she couldn't get any more adorable, she's also on Twitter.

As the child version of "Revolution's" central character Charlie -- the adult version is played by Tracy Spiridakos -- we don't get to see all that much of seven-year-old Morgan Hinkleman, but she certainly made an impression. After the electricity goes out all over the world in the pilot episode of the new NBC drama, young Charlie eats perhaps the last bite of ice cream she'll ever have and her dad tells her to remember the taste. Poor Charlie. But there's a good chance there will be more of Morgan since "Revolution" executive producer Eric Kripke told HuffPost TV, "We're gonna have flashbacks in every episode. We call them epi-pens of adrenaline, of what happened in those first days after the blackout and how people survived, what happened, how they made their way out of the cities, how they found food and water."

The adorable Stella sisters gained overnight fame when a video of them singing Robyn's "Call Your Girlfriend" with fancy handwork surfaced on YouTube. Lennon, now 13, and Maisy, 8, had the Internet charmed and many opportunities arose. The adorable sisters booked a guest stint on ABC's new country drama "Nashville," which also happens to be where the girls live with their musical parents, who form the band The Stellas. Lennon and Maisy are already getting praise from their co-stars. Clare Bowen tweeted, "Phenomenal forces of musical nature! So honoured to be working with such amazing creatures."
Check out our snap judgments of all the new shows here, by network:

NBC | Fox | ABC | The CW | CBS