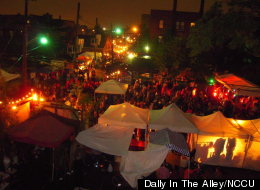 Want to get a pulse on Detroit's music scene? Look no further than the 35th annual Dally in the Alley, which takes place in Detroit's Cass Corridor neighborhood this coming Saturday.
The Dally is a grassroots street fair that has given local musicians a chance to introduce their sounds to Detroit-area audiences since 1982.
(SEE PHOTOS BELOW)

Visitors to this year's festival will have the chance to experience nearly 50 artists on four stages (including one dedicated to electronic music). Saturday's set will take the form of an eclectic musical collage, juxtaposing sounds as diverse as funk (Third Coast Kings) and zydeco (Zydeco Hepcats) to electronic (DJ Erno the Inferno), Jazz (El Dee) and "tiki" music (Roland Remington). The lineup will bring together seasoned artists like the world-travelling Tunde Olaniran alongside lesser known, even virtually unknown local acts.
To catch a glimpse of the featured bands take a look below and check out the Dally's website for directions and a complete schedule of the day's performances.
Rapper Charles Vann, who goes by the moniker "Self Says," aims to mix "off-kilter rhyme styles with more serious, straight-laced lyricism," according to his website bio. He's performed at the Detroit Electronic Music Festival and shared the stage with One Be Lo, Finale, Phat Kat, Slum Village, Buff1 and Shigeto.

DJ Aran Daniels came to love techno music after listening to the sounds of the Motor and Shelter nightclubs in the 1990s. While influenced by labels such as Ghostly International and Playhouse, he tries to stay true to his Midwest techno and house roots. He's the resident DJ at Detroit's TV Lounge.

The Copper Thieves are a Detroit-area rock band featuring Andy Roy, John Nelson, Marty Roy, Christian Doble and Tony Rochon. (Facebook: Photo by Stacy Roy)

Darkred is a two-piece experimental/psychedelic Detroit rock band featuring Chris Turner on drums and Rob Smith on guitar. (Myspace: Photo by Anubis)

The Deadbeat Beat is a "big beat" Detroit-area rock band. (Facebook: Photo by Lauren Montgomery)

Deastro is Randolph Chabot, a Detroit-based artist who produces synth-driven electronic pop. He's also known to play with a band, including Jeff Supina on drums, Mark Smak on guitar and Brian Connelly on bass and keyboards.

Roland Remington plays mid-century exotica/tiki bar music on vintage melody percussion instruments. He covers artists like Martin Denny, Les Baxter and Arthur Lyman. (Facebook: Photo by Joseph Coots)

Electric Firebabies make experimental Detroit new wave, soul influenced by The New Dance Show, Stereolab, The B-52's, King Tubby and Kundalini.

DJ Erno the Inferno describes his sets on Facebook as "disco and classic house having a love affair with techno." He puts together beats for local hip-hop artists and played bass in the recently disbanded indie/punk/folk-ish band, Noman. (Facebook: Photo by Joe Gall)

Fancy Street is a Detroit-area band that produces acoustic pop music.

Allan James and the Cold Wave is an indie rock band from Ferndale.

El Dee is a Detroit-area jazz pop band starring Lauren Deming and her tight-knit group of musician friends. (Facebook: Photo by Andi Hedrick)

The band Duende! mixes rock, blues, country, psychedelic and other influences to create a melting pot of sounds.

The rock band Gardens names The Beatles, Syd Barrett, Nirvana and Turkish psychedelic music among their influences.

Loretta Lucas is a vivacious folk-pop singer who has performed with her sister Julie in the band Sisters Lucas.

Formed in 2010, the Zydeco Hepcats play classic zydeco tunes as well as a healthy order of original blues and roots songs.

The Third Coast Kings are a deep funk and soul ensemble based in Detroit. The eight-piece ensemble aims to do funk the right way and hope audiences will appreciate their dedication to the classic sound.

Pink Lighting is a rock-and-roll band featuring Neal Parks on drums, Everette Rinehart on bass, Tom Bahorski on guitar, Leo McWilliams on accordion and vocalist Chris Butterfield, who also plays a circuit bender. (Facebook: Photo by Kim Parks)

Small Noises is a Detroit-area alternative rock/garage band.

MC goldzilla! and DJ some kid make up The Anonymous, an underground hip-hop group that emerged from Detroit's suburbs in the early 2000s. (Facebook: Photo by Jeremy Damaske)

The Oscillating Fan Club's brand of guitar pop interweaves classic '60s rock music with more experimental and psychedelic influences.

Based in Detroit's Woodbridge neighborhood, The Summer Pledge combines progressive indie rock with classic soul music. (Facebook: Photo by Lauren Smith)

The Walking Beat delves into a soundscape combining elements as diverse as hard rock, country-western waltzes, glam rock and Townes Van Zandt-inspired tunes. Brought to you by Detroiters Danny Kanka, Steve McCauley, Stephanie Selvaggio, Joe Lavis and Jon Berz.

Ungrateful Daughter is an "artpsychpunk" band based in Detroit. Members are Frank Woodman on Jaguar, Hillary Woodman on electric Ukulel and Ryan Michels on skins.

Together, Ashley E. Hennen, Brad A. Potts, Jessica L. Brasher and Alex Tetreault form The Wire Eyes, a Detroit musical ensemble with a knack for creating haunting, ethereal sounds. Catch them while you can. Their Dally performance will be their last for some time as Hennen will be leaving Detroit for New York City.

Tunde Olaniran mixes hip-hop, pop and electronic music to create a unique beat-driven sound. A seasoned performer, he has toured the world and fronted the rock band Taste This! earlier in his career.