Clinton said her visit, the first by a U.S. secretary of state to East Timor, was "a visible sign of our support for all that has been accomplished by the people of this nation." She and Prime Minister Xanana Gusmao enjoyed coffee produced by a cooperative that helps supply the Starbucks chain.
This is the first Democratic convention Hillary Clinton has missed since 1968, according to The New York Times, but even if she hadn't been traveling, she wouldn't have attended the convention.
"Officially, let me say that for decades secretaries of state have not attended political conventions because of the nonpartisan nature of our foreign policy," Hillary Clinton said on Thursday, according to the Times. "I think it's a good rule. It's one that I certainly accepted."
LOOK: Secretary of State Hillary Clinton watches her husband, Bill Clinton, speak at the DNC: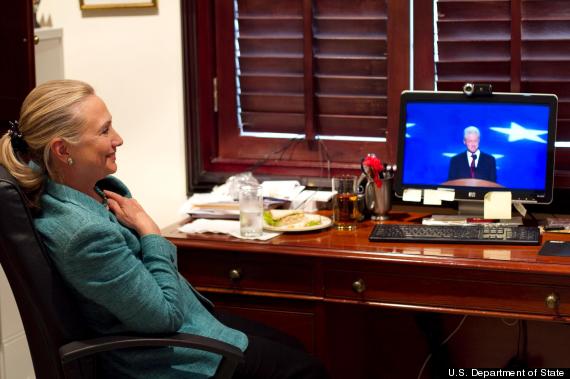 Also on HuffPost:
Obama Rocks Democratic Convention
SUBSCRIBE AND FOLLOW
Get top stories and blog posts emailed to me each day. Newsletters may offer personalized content or advertisements.
Learn more