In her skin-tight black pants, badass black boots and devil-may-care white T-shirt, Agent Myka Bering looks a tad out of place on a hoity-toity golf course. Her partner, Pete Lattimer, on the other hand, fits right in with his dapper Polo shirt and perfectly creased pants.
We're on the set of Season 4 of "Warehouse 13," watching Myka (Joanne Kelly) and Pete (Eddie McClintock) trying to figure out what supernatural forces may have killed a man who died of apparent altitude exposure on a sunny Las Vegas golf course. (We're actually at the pristine Scarborough Golf Club, on the east side of Toronto, which also doubles for a horse racetrack in England later on.)
Fans are eagerly awaiting the return of the hugely popular show about a band of misfits who protect the world from rogue artifacts with minds of their own. "In my estimation, it really is a family show with a lot of extras," says McClintock, when asked why he thinks the show has attracted so many devoted fans.
Of course, people also love seeing the artifacts. McClintock's own personal favorite artifact from past seasons is Abe Lincoln's hat, which gave Pete an uncontrollable urge to "free" the warehouse boss Mrs. Frederic. ""It's funny, clever, poignant. It's so smart that the audience doesn't take offence," says McClintock. "It's done with good intentions."
Last season ended with a lot of major events (SPOILER ALERT!) -- including the death of Steve, played by Aaron Ashmore. "I've died a lot on TV shows," says Ashmore, laughing. Fans will be relieved to hear that Steve is back for Season 4 -- but they'll have to watch to see just how that's possible.
We know a lot of you can't wait to find out what happens in Season 4, so we've compiled a list of 13 essential things to know. We recruited a little help from Kelly, McClintock, Ashmore and Allison Scagliotti (who plays Claudia) to satiate at least a little bit of your curiosity. (Sadly, Saul Rubinek, who plays Artie, wasn't on set the day we stopped by.)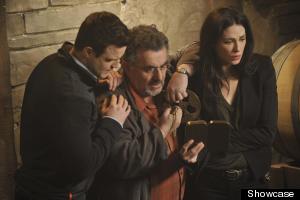 1. "This season is really huge," says Kelly. "It's bigger, better, faster. We see each of the characters go through an arc this year." Scagliotti agrees. "We went out with a huge bang, literally. We have to bring back everything that we lost," she says.
2. "Artie is haunted all season," Scagliotti reveals, without elaborating. (You'll have to watch to find out more!)
3. "Myka is less annoyed by Pete's seeming immaturity," says McClintock. "She gets that he uses [immaturity] to keep himself safe."
4. "Claudia is given more responsibility. She's being groomed by Mrs. Frederic," says Scagliotti. Claudia gets to tackle field assignments this season, including a memorable episode where she's paired with Pete.
5. Steve and Claudia are still close, but their relationship isn't quite as playful as it was last season. "There's a greater co-dependence between them," says Scagliotti. Ashmore agrees. "There's definitely a darker tone to the relationship," he says.
6. "One of the characters will be irrevocably changed," Kelly teases cryptically.
7. "Star Trek" babe Jeri Ryan is back this season as Pete's ex-wife. "She's an icon. It just makes me look good," says McClintock. "The first day I met her, I told her that she just raised my stud credentials exponentially."
8. "With the loss of the warehouse, she's a bit lost," Kelly says of her character, Myka.
9. Kelly reveals that fan favorite H.G. Wells (Jaime Murray) will be back. "I hope that's not a spoiler!" she says.
10. Ashmore says there's going to be an episode about a very cool artifact from one of the biggest movies of all time. Of course, if he tells us any more he'd have to kill us.
11. Kelly has influenced Myka's wardrobe a bit over the years. "I wanted to give her flip glasses," she says, adding that she has the same pair in real life. "It's part of her essential goofiness." Myka's hair is back to messy curls this season, following last year's sleek straightened look. "She's really frumpy. There's something so uncool about her."
12. In case you were wondering, Scagliotti is not a tech geek in real life, and Ashmore can't spot liars any better than the next guy. "My mom thinks I'm a tech geek, but my tech expertise extends to formatting my iPod," says Scagliotti, laughing. "The secret to playing a computer hacker on TV is just spewing all that techno babble as fast as possible and then looking very self-satisfied."
13. It may be completely unrelated to the season, but this tidbit is too cool not to mention: McClintock is currently collaborating with George A. Romero and "Warehouse 13" stunt coordinator Matt Birman on a movie called "Road of the Dead," in which zombies have learned how to drive. McClintock says he totally geeked out the first time he met Romero at a lunch meeting. "I made him hug me and pose for a picture," he recalls. "I sucked his ass for a while."
Season 4 of "Warehouse 13" premieres in Canada on Showcase on Friday, September 7 at 10 p.m. ET/ PT.
Shaw Media Fall TV Schedule 2012-13: New Shows
From the classic tale comes a new, fresh take on "Beauty and the Beast," starring Canadian Kristin Kreuk ("Smallville") as Catherine Chandler. Now a smart, no-nonsense homicide detective, Catherine discovers Dr. Vincent Keller (Jay Ryan, "Terra Nova"), the man who saved her many years before. Our Verdict: TV watchers love Kreuk, and we've seen how the appetite can be for a romance-infused teenage show ("The Vampire Diaries"). This'll last. (All Photos Courtesy of Shaw Media)

Meet Dr. George Coleman (Justin Kirk, "Weeds"), a top-dog New York veterinarian. With an unorthodox style of operating, George's success comes from his undeniable gift with animals of all kinds. That is, all but the human kind. Our Verdict: Anything with a monkey doesn't really stand a chance, does it? We do love Bobby Lee, though.

Hosted by Nancy O'Dell, co-host of "Entertainment Tonight," this show gives fans an inside look at the interiors and exteriors of celebrity homes. This season features celebs like Backstreet Boys' AJ McLean, country singer Naomi Judd, and more. Our Verdict: If this is your thing, you're gonna love it!

No job is more stressful, dangerous or exhilarating than those of the Firefighters, Rescue Squad and Paramedics of Chicago Firehouse 51. These are everyday heroes -- the courageous men and women who forge headfirst into danger when everyone else is running the other way. But the enormous responsibilities of the job also take a personal toll. Our Verdict: Doesn't really stand a chance. There have been too many before it.

Misery loves company. Unless you're sportscaster Ryan King (Matthew Perry) who thinks misery should just be left alone. After losing his wife in a recent car accident, Ryan is ready to get back to work, but his boss won't let him until Ryan seeks counselling. So, Ryan reluctantly joins a support group with one goal in mind: get in, get out and get back on air as quickly as possible. Our Verdict: It'll survive, as long as Perry lays on the charm.

A drama inspired by the true story of former Las Vegas Sheriff Ralph Lamb, a fourth-generation rancher tasked with bringing order to Las Vegas in the 1960s. Lamb (Dennis Quaid) wants to be left in peace to run his ranch, but Las Vegas is starting to intrude on his simple life. Our Verdict: Quaid leading a TV drama is certainly interesting, but does he have the sex appeal/overall appeal to keep this thing afloat? Luckily for him, Vegas provides an awesome backdrop for the show.

Set in Pittsburgh's renowned Abby Lee Dance Company, owned and operated by the famously outspoken Abby Lee Miller, "Dance Moms" follows children's early steps on the road to stardom and their mothers who are there for every rehearsal, performance and bow ... all under Miller's discerning eyes. Our Verdict: Already a favourite in the US, this show will draw attention, no question. It's like a train wreck.

A modern-day take on Sherlock Holmes (Johnny Lee Miller), the iconic detective is taking on New York. Just out of rehab, he's been assigned to live with his worst nightmare -- sober coach, Dr. Joan Watson (Lucy Liu). Our Verdict: Sexy casting. Semi-cheesy premise. Could be good! All depends on the script.

This show chronicles the highs and lows of four famous ex-wives in L.A. Once married to famous rock stars, they were kicked to the curb, and forgotten. With narrator Shannon Tweed as our guide, we follow the action as Athena, Bobbie, Blue and Sharise try to reinvent themselves and make their way to the top again. Our Verdict: Nope. Way too many other wife shows out there.

From Emmy winner and executive producer Jimmy Fallon comes a new comedy about three thirty-something dads trying to hold on to their youth, while holding onto their new babies' hands. Easy, right? Thankfully, Chris (Jesse Bradford), Nick (Zach Cregger) and Gary (Anthony Anderson) have each other to help navigate their survival as new dads, while still trying desperately to remain dudes. Our Verdict: More of a movie plot than a TV plot, this show looks to be funny -- but it'll probably mostly appeal to the mom demo.

Everyone's got something to hide and Riley Parks is no exception. Jennifer Love Hewitt plays Riley, a single mother, living in a small Texas town and leading a shocking double life. Her secret would send shockwaves through the community and possibly land her in jail if it was ever exposed. Our Verdict: Americans are in love with this show, and soon Canadians will be too. There's something about JLH (ahem) that speaks to men and women alike. We'll let you figure it out.

Canada's most trusted contractor helps unfortunate homeowners whose homes, lives and finances have been brutally disrupted by disastrous events and renovations. Mike Holmes takes on catastrophes that would make other contractors run. Our Verdict: Holmes fans are Holmes fans. The man could dance in a potato sack and people would still watch.

Hosted and executive produced by the Emmy Award-winning Jeff Probst, "The Jeff Probst Show" is a one-hour talk show that will cover topics including relationships and family dynamics, newsmakers of the day, families and individuals facing challenges. Our Verdict: Moderating "Survivor," yes, but talk show host? The fate of this remains to be seen.

500 feet beneath the ocean's surface, the U.S. ballistic missile submarine Colorado receives its orders: over a radio channel, designed only to be used if their homeland has been wiped out, they're told to fire nuclear weapons at Pakistan. Our Verdict: Dealing with sensitive issues, this may be a fan favourite, but it could also choke on its own seriousness.

You can take the girl out of Jersey, but you can't take Jersey out of the girl. When a brassy street-wise lawyer joins a posh Manhattan law firm, she lowers expectations at first sight. But, despite her white-collar colleagues' skepticism and her Italian family's well-meaning but constant intrusions, she rises to the challenge. Our Verdict: Pass. We have enough Jersey on TV as it is.

Starring Damon Wayans and Tisha Campbell-Martin ("The Protector"), "My Wife and Kids" centres on the character of Michael Kyle, a loving husband and modern-day patriarch who rules his household with a unique and distinct parenting style. As he teaches his three children some of life's lessons, he does so with his own brand of humour. Our Verdict: Wayans is hilarious, and it's been a while since we saw a good, old-fashioned family sitcom. We have our fingers crossed for this one.

Premiering in September, "The Ricki Lake Show" brings America's girlfriend back to television. Covering topics that interest the 25-54 year old woman, this is a new Ricki -- reflecting where she and her audience are now in their lives. Our Verdict: It's like taking a trip back to the '90s, when Ricki's show was ridiculously popular. We think the populace is thirsting for a brand-new, exciting talk show, and Ricki may just have the goods.

A high-octane, globe-spanning thriller with storylines ripped from the headlines, "Strike Back" focuses on two members of a top-secret anti-terrorist organization known as Section 20. Leading the team are British Sergeant Michael Stonebridge (Philip Winchester) and Damian Scott (Sullivan Stapleton), a Delta Forces operative who was disgraced and discharged on the eve of the U.S. invasion of Iraq. Our Verdict: War isn't exactly the most popular topic on TV, so our hopes aren't very high for this show.

The world broadcast initiative "Mankind: The Story of All of Us" is the epic tale of the global rise of civilization, complete with danger, action, heroism and adrenaline. This series takes viewers from the first flourishing of civilization in Mesopotamia through the discovery of America. Utilizing multiple disciplines to provide greater insight into the formation of our world, the series will draw upon surprising links from geography, natural history and science. Our Verdict: This is going to be delivered in beautiful HD and is very interesting, so we imagine it'll draw a large number of viewers.

Chef Chuck Hughes is hungry for a break from his daily grind, so he's heading to Mexico and cruising across the country in an open-air jeep in search of culinary adventures. There's nothing he won't try, whether it's off-roading up a volcano, working a shift at a taco stand, stepping into a wrestling ring, or roping a cow with a group of Mexican cowboys. Our Verdict: Yum.