To Walmart or not to Walmart? That is the question being debated by residents of the Congress Park neighborhood near 9th and Colorado Blvd., where a new "urban" Walmart has been proposed by property developer Jeff Fuqua.
Fuqua wants to turn the old, abandoned University of Colorado Hospital property into a proposed mix of luxury apartments, dining and retail options, all anchored by what is described as an upscale Walmart.
However, some residents are so against the idea of a Walmart in the area that they have put up red yard signs, like the one below, with bold, white text reading "NO WALMART," from Denis Moynihan, creator of the StopWalmartColorado.com website. Residents can donate $10 and get a yard sign of their own to voice their opinion about the big-box behemoth setting up shop.
LOOK: "No Walmart" sign, via StopWalmartColorado.com: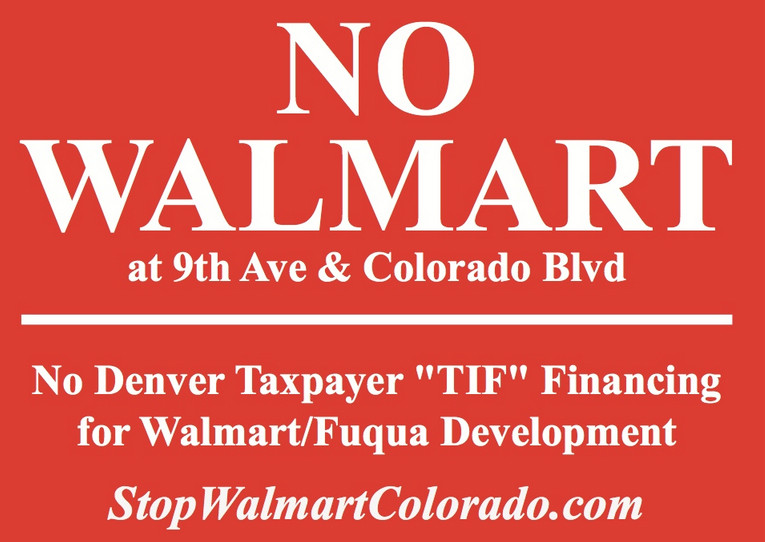 A Thursday public meeting to discuss the redevelopment project further was focused on related transportation issues and residents were reportedly concerned about the projected 14,000 vehicle trips per day that the new Walmart could bring to an already congested Colorado Blvd., 9News reported.
Residents have also voiced concern that the Walmart retailer could introduce new crime to the neighborhood and could negatively affect local businesses. At an August public meeting about the project, the residents of Congress Park were not receptive to the proposition of a Walmart near their historic Denver neighborhood. One resident told CBS4, "Big box stores do nothing for the surrounding neighborhoods. Walmart, in particular, is detrimental to local businesses."
Moynihan urged those against the Walmart development to wear red to the public meeting so their opposition was clearly visible to the Colorado Boulevard Healthcare District board. Yard signs were going to be available with donation and those opposed to the development could also sign the Stop Walmart Colorado petition.
Also on HuffPost:
Nightmares That Involve Walmart
FOLLOW HUFFPOST