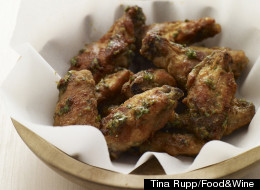 With football season starting up, what more could you want to accompany the game but the best chicken wing recipe around? Well lucky for you, that's exactly what we're bringing you with this Thai Green Curry Hot Wings recipe.
These chicken wings are no ordinary buffalo wings. This recipe makes such addictive -- and spicy! -- wings that you'll be tempted to inhale 'em like El Wingador, the five-time champion of the competitive eating contest known as the Wing Bowl. But please, try to control yourself.
Get the Thai Green Curry Hot Wings recipe
Check out these other chicken wing recipes.
Get the Rosemary Chicken Wings recipe by The Hungry Housewife Rosemary and oregano are used to flavor these crispy, grilled chicken wings.

Get the Barbecued Buffalo Wings recipe by Simply Recipes Just because it's not football season doesn't mean you can't enjoy buffalo chicken wings. Just cook them on the grill for summertime fare.

Get the Korean BBQ Wings recipe by Picky Palate Topping chicken wings with sesame seeds gives them a nice textural crunch. And serving them with fresh pears adds a great contrast in flavors.

Get the Grilled Chicken Wings with Indian Spices recipe by vazhayila.com Garam masala is used to give these chicken wings an Indian flair. And the use of yogurt in the marinade keeps the chicken tender.

Get the Grilled Chicken Wings, The Indian Way recipe by Look Who's Cooking Too A medley of Indian spices such as turmeric, cumin, coriander and fenugreek leaves are used in the marinade to flavor these grilled chicken wings.

Get the Finger Licking Fiery Agave Glazed Wings recipe by The Primlani Kitchen These chicken wings are spicy -- and we mean really spicy. They're marinated with habanero and serrano chiles.

Get the Grilled Chicken Wings with Hoisin Sauce and Honey recipe by Soup Belly Sweet and spicy, these grilled chicken wings are sure to please.

Get the Szechuan Pepper Chicken Wings with Thai Peanut Sauce recipe by Grill Grrrl. Thai-flavored chicken wings are served with a creamy peanut butter dipping sauce. And you'll need it, since the wings are pretty hot.

Get the Mojito Grilled Lime Chicken Wings recipe by Cook and be Merry If you're a fan of mojitos, you'll love these wings. Flavored with lime and mint, the light flavors will hit the spot on a hot summer evening.

Get the Grilled Chicken Wings Mole recipe by She Cooks He Cleans These grilled Mexican-inspired chicken wings pair perfectly with an ice-cold beer.

Get the Grilled Miso BBQ Chicken Wings recipe by Dad Cooks Dinner If you like chicken wings with a lot of sauce, this recipe will deliver. Not only are the wings marinated, but they have a glaze too.

Get the Sweet and Spicy Grilled Chicken Wings recipe by She Wears Many Hats With just four ingredients, you can enjoy these fall-off-the-bone grilled chicken wings.

Get the Spicy Grilled Chicken Wings recipe by My Kitchen Snippets The secret ingredient in making these chicken wings stand out is our favorite chile sauce, sriracha.