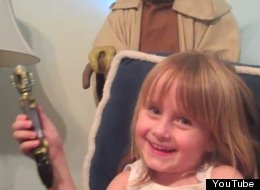 "Doctor Who" just got even more adorable. Meet Lindalee Rose, a four-year-old Whovian with a knack for recapping. Lindalee took to YouTube to recap "Asylum of the Daleks," the first episode of "Doctor Who" Season 7.
The four-year-old summarized the hour-long episode in just over three minutes. That's recapping talent! The episode saw the debut of Jenna Louise-Coleman, the latest actress to fill the Doctor companion role and the significance wasn't lost on Lindalee.
Watch Lindalee's recap below and check back to her YouTube channel for new recaps. Not quite sure we can emotionally handler her recap of Karen Gillan and Arthur Darvill's last episode ...
"The Name of the Doctor"

"Nightmare in Silver"

"The Crimson Horror"

"Journey to the Centre of the TARDIS"

Matt Smith stands beneath a suspended Tardis as Jenna-Louise Coleman stands inside the time machine during filming of the "Doctor Who" 50th anniversary special in Trafalgar Square in London on April 9.

Jenna-Louise Coleman stands in a suspended Tardis during filming of the "Doctor Who" 50th anniversary special in Trafalgar Square in London on April 9.

Matt Smith hangs beneath a suspended Tardis as Jenna-Louise Coleman stands inside the time machine during filming of the "Doctor Who" 50th anniversary special in Trafalgar Square in London on April 9.

Matt Smith stands beneath a suspended Tardis as Jenna-Louise Coleman stands inside the time machine during filming of the "Doctor Who" 50th anniversary special in Trafalgar Square in London on April 9.

Matt Smith and Jenna-Louise Coleman stands film the "Doctor Who" 50th anniversary special in Trafalgar Square in London on April 9.

The Doctor's search for Clara Oswald brings him to modern day London, where Wi-Fi is everywhere. Humanity lives in a Wi-Fi soup. But something dangerous is lurking in the signals, picking off minds and imprisoning them. As Clara becomes the target of this insidious menace, the Doctor races to save her and the world from an ancient enemy. Episode credits: Written by Steven Moffat, directed by Colm McCarthy (Ripper Street, The Tudors), and produced by Denise Paul (Taggart).

Clara wants to see something awesome, so the Doctor whisks her off to the inhabited rings of the planet Akhaten, where the Festival of Offerings is in full swing. Clara meets the young Queen of Years as the pilgrims and natives ready for the ceremony. But something is stirring in the pyramid, and a sacrifice will be demanded. Episode credits: Written by Neil Cross (Mama, Luther), directed by Farren Blackburn (Luther, The Fades) and produced by Denise Paul

The Doctor and Clara land on a damaged Russian Submarine in 1983 as it spirals out of control into the ocean depths. An alien creature is loose on board, having escaped from a block of Arctic ice. With tempers flaring and a cargo of nuclear weapons on board, it's not just the crew but the whole of humanity at stake! Episode credits: Written by Mark Gatiss (Sherlock) and directed by Douglas Mackinnon (Silent Witness).

Clara and the Doctor arrive at Caliburn House, a haunted mansion sat alone on a desolate moor. Within its walls, a ghost hunting Professor and a gifted psychic are searching for the Witch of the Well. Her apparition appears throughout the history of the building, but is she really a ghost? And what is chasing her? Episode credits: Written by Neil Cross and directed by Jamie Payne (The Hour, Call the Midwife).

Miss Kizlet (Celia Imrie)

Clara (Jenna-Louise Coleman)

Clara (Jenna-Louise Coleman)

Clara (Jenna-Louise Coleman)

The Doctor (Matt Smith)

The Doctor (Matt Smith)

Doctor Who, Season 7.2, Episode 3, Clara (Jenna-Louise Coleman)

Miss Kizlet (Celia Imrie)

The Doctor (Matt Smith)

Clara (Jenna-Louise Coleman)

Clara (Jenna-Louise Coleman)

Clara (Jenna-Louise Coleman)

Miss Kizlet (Celia Imrie)

The Doctor (Matt Smith)

Clara (Jenna-Louise Coleman)

Doctor Who, Season 7.2, Episode 3, The Doctor (Matt Smith)

Doctor Who, Season 7.2, Episode 4, Alec Palmer (Dougray Scott)

Doctor Who, Season 7.2, Episode 3, Clara (Jenna-Louise Coleman) and the Doctor (Matt Smith)

Doctor Who, Season 7.2, Episode 1, Clara (Jenna-Louise Coleman)

Doctor Who, Season 7.2, Episode 3, The Doctor (Matt Smith)

Doctor Who, Season 7.2, Episode 4, Alec Palmer (Dougray Scott), Emma Grayling (Jessica Raine), Clara (Jenna-Louise Coleman), and the Doctor (Matt Smith)

Doctor Who, Season 7.2, Episode 4, Alec Palmer (Dougray Scott) and Clara (Jenna-Louise Coleman)

Doctor Who, Season 7.2, Episode 3, Ice Warrior

Doctor Who, Season 7.2, Episode 2

Doctor Who, Season 7.2, Episode 1, The Doctor (Matt Smith)

Doctor Who, Season 7.2, Episode 1, Clara (Jenna-Louise Coleman) and the Doctor (Matt Smith)

Doctor Who, Season 7.2, Episode 4, Clara (Jenna-Louise Coleman) and the Doctor (Matt Smith)

Doctor Who, Season 7.2, Episode 1, The Doctor (Matt Smith) and Clara (Jenna-Louise Coleman)

Doctor Who, Season 7.2, Episode 2, Clara (Jenna-Louise Coleman) and the Doctor (Matt Smith)

Matt Smith as the Doctor, Jenna-Louise Coleman as Clara

Matt Smith, Jenna-Louise Coleman

Matt Smith

Madame Vastra (Neve McIntosh), Commander Strax (Dan Starkey), and Jenny Flint (Catrin Stewart)

Matt Smith, Jenna-Louise Coleman

Jenna-Louise Coleman

Matt Smith, Jenna-Louise Coleman

Snowmen

Scenes from "Doctor Who" Season 7

Scenes from "Doctor Who" Season 7

Scenes from "Doctor Who" Season 7

Scenes from "Doctor Who" Season 7

Scenes from "Doctor Who" Season 7

Scenes from "Doctor Who" Season 7

Scenes from "Doctor Who" Season 7

Scenes from "Doctor Who" Season 7

Scenes from "Doctor Who" Season 7

Scenes from "Doctor Who" Season 7

Scenes from "Doctor Who" Season 7

Scenes from "Doctor Who" Season 7

Scenes from "Doctor Who" Season 7

Scenes from "Doctor Who" Season 7

Scenes from "Doctor Who" Season 7

Scenes from "Doctor Who" Season 7