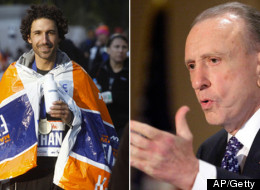 Former U.S. Senator Arlen Specter has been diagnosed with non-Hodgkin's lymphoma, a kind of lymphoma cancer that starts in a type of white blood cell in the body's lymphatic system, according to news reports.
The 72-year-old will receive treatments from a Philadelphia hospital for the cancer, and he said in a statement obtained by the Associated Press that this is "another battle I intend to win." Specter had battled Hodgkin's lymphoma in the past.
Lymphoma is cancer of the body's lymphatic system -- the bone marrow, lymph nodes, thymus gland and spleen, the Mayo Clinic reported. The cancer is capable of spreading throughout the body, according to the National Institutes of Health.
There are many kinds of lymphoma, but the two main kinds are non-Hodgkin's lymphoma and Hodgkin's lymphoma. Both of these types affect the white blood cells, but Hodgkin's lymphoma also has the presence of a Reed-Sternberg cell, a kind of abnormal cell, the Mayo Clinic reported. Hodgkin's lymphoma is also rarer than non-Hodgkin's, of which there are several types.
Lymphoma is expected to affect 79,190 people in the United States this year; 20,130 people in the U.S. are estimated to die from the disease this year, according to the National Cancer Institute.
For some famous faces who have somehow been touched by lymphoma, click through the slideshow:
Celebrities Who Faced Lymphoma
The "Dexter" star was treated for Hodgkin's lymphoma in early 2010, the Associated Press reported. His wife told the AP that he was "fully recovered" later that year.

The Ramones lead vocalist Joey Ramone, whose real name was Jeffry Ross Hyman, died in 2001 from complications from lymphoma at age 49, SPIN magazine reported. ABC News reported that he had had the cancer for the six years leading up to his death. Flickr photo by N0 Photoshop.

The "Survivor" winner was diagnosed again with Hodgkin's lymphoma on Sept. 14 of last year, after having been in remission from the cancer for the previous 20 months. Zohn underwent a stem cell transplant as a treatment for the cancer earlier this year, the New York Daily News reported.

The "Spartacus: Blood And Sand" actor died at age 39 last year from non-Hodgkin's lymphoma, the New York Times reported. Whitfield had been first diagnosed with the cancer in 2010, which was promptly treated with chemotherapy. But then the cancer returned, People magazine reported. In his last few months of life, Whitfield filmed his battle against cancer, which is now being made into a film titled "Be Here Now," according to People.

Mr. T, whose real name is Laurence Tureaud, was diagnosed in 1995 with T-cell lymphoma, according to People magazine. He is now in remission.

Allen, the co-founder of Microsoft, underwent chemotherapy treatments for non-Hodgkin's lymphoma -- specifically large B-cell lymphoma -- in 2009, according to the Associated Press. CNN reported that he had previously beaten Hodgkin's lymphoma in 1983.

The Republican representative from Michigan, who is also the House's tax-writing committee chairman, announced his diagnosis with non-Hodgkin's lymphoma earlier this summer, and is now undergoing chemotherapy, the Associated Press reported. He specifically has large B-cell lymphoma.

Dr. Rosen describes the treatment options for non-Hodgkin lymphoma/NHL.