Harry Potter Blooper Reel: Rupert Grint Can't Keep It Together On 'Wizard's Collection' (VIDEO)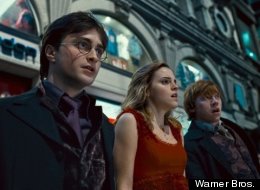 Just because the "Harry Potter" franchise is gone doesn't mean it's forgotten. On Sept. 7, Warner Bros. will release a ridiculously comprehensive set containing all eight "Harry Potter" films spread across 31 DVDs and Blu-rays. (Expecto patrohmygod, right, guys?)
To celebrate the release -- which you're obviously going to ask for this holiday season -- HuffPost Entertainment is happy to debut one of the set's special features, a 90-second clip focused on how Rupert Grint cannot keep a straight face.
Watch above as Grint -- who played Harry's faithful sidekick, Ron, in the films -- cracks up during numerous scenes throughout the franchise.
"Harry Potter: Wizard's Collection" arrives in stores next week.
'Harry Potter and the Deathly Hallows Part 2' Premiere
[Photo: Getty]

[Photo: Getty]

[Photo: Getty]

[Photo: Getty]

[Photo: Getty]

[Photo: Getty]

[Photo: Getty]

[Photo: Getty]

[Photo: Getty]

[Photo: Getty]

[Photo: Getty]

[Photo: Getty]

[Photo: Getty]

[Photo: Getty]

[Photo: Getty]

[Photo: Getty]

[Photo: Getty]

[Photo: Getty]

[Photo: Getty]

[Photo: Getty]

[Photo: Getty]

[Photo: Getty]

[Photo: Getty]

[Photo: Getty]

[Photo: Getty]

[Photo: Getty]

[Photo: Getty]

[Photo: Getty]

[Photo: Getty]

[Photo: Getty]

[Photo: Getty]

[Photo: Getty]

[Photo: Getty]