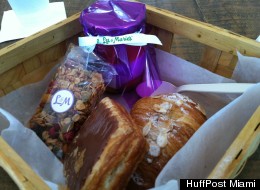 Food joints open all the time in Miami, but few owners can say that opening the doors came with decades of dreaming.
Andy Travaglia's culinary venture, Lee & Marie's, opened Friday after 22 years of brainstorming, planning and wishing. The "cakery" is a joint partnership with acclaimed Belgian pastry chef, Yannis Janssens, complete with a menu of mouthwatering croissants, cakes, pies, danishes and more.
However, it's not so much the adorable, cozy shop that Travaglia is proud of; it's the mission behind it: creating a business where Autistic adults can work.
Living in New Jersey 22 years ago, her best friend's son was exhibiting out-of-the-ordinary behavior, and the two friends worked together to find a doctor that could diagnose him. But in the '80s, Autism was not a part of people's vocabulary that it is today.
"I went through the trials of trying to get the help for him," Travaglia said. "It changed my priorities."
At that point, she knew she wanted to do something for people with Autism but decided to wait until her daughters were grown. With Lee & Marie's, named after two women in the family who were known for their baking skills, her dream has become a reality. When she moved to Miami in 2008, she met with professionals at the University of Miami and Nova Southeastern University's Center for Autism and Related Disabilities to learn more about what work needed to be done in the field.
"I met so many families and I wondered, what happens to their kids when they age out of the 'system'?" she said. "It's a ridiculous amount of incredibly talented adults just wandering the streets."
In fact, a study found that "youth with an [Autism Spectrum Disorder] have poor postsecondary employment and education outcomes."
Chef Janssens said that when he met with adults across the Autism spectrum, he was shocked by their proficiency in learning technical skills in pastry, such as creating decorative pieces from gumpaste, fondant, chocolate, even butter. What was once a weakness -- being hyper-focused on one activity -- was translated into a strength in the kitchen. Also, the Autistic hires are paired with one of the Four Seasons trained staff members for guidance and help. Depending on their comfort levels, the employees can greet customers, bring food to tables or work behind the scenes.
"It's working out very, very well," Janssens said of Lee & Marie's, adding that, "there's a cause. I can work anywhere I want to work, but now, there's a reason."
Not only is there the cause for Autism, but also freshness. Travaglia grew up in farm life and swears she's never had a Big Mac. The cakery is partnered with three local farms for seasonal fresh fruits and dairy products from a farm in Myakka that delivers weekly. Lee & Marie's is also creating relationships with local businesses, such as Panther Coffee.
"I wanted to create a comfortable environment, reminding me of the farm table I grew up at," she said.
Lee & Marie's has a production store in Wynwood, and the plan is to expand that into a place where customers can visit and see the process as well. But all in all, the goal is to keep hiring Autistic adults and give them a chance to work.
"We're using [the store] as a prototype not just for us but for other companies," she said. "An Autistic employee is going to be nothing but a benefit to everybody, not just themselves."
Hummingbird cake at Lee & Marie's.

Owner Andy Travaglia sits in her new cakery, Lee & Marie's.

Croissants at Lee & Marie's

Employees work to prepare the day's pastries.

Owner Andy Travaglia and Chef Yannis Janssens

Panther coffee at Lee & Marie's

Pastries at the front window of Lee & Marie's

A basket of goodies from Lee & Marie's

Fresh homemade cream with farm-fresh peaches are served in jars.

A water station.

Photos of the cakery's namesake, Lee and Marie.

Andy Travaglia brought items from her New York home to add personality to the store, including this 1930s cupboard.

Fresh milk and cream to mix with customers' coffee.

Just some of the delights at Lee & Marie's.

An assortment of cookies at the cakery.