What do you do after you break the world record for largest crab cake? Make a bigger crab cake, obviously. At least that's what Maryland seafood processing company Handy International did.
On September 1st, Handy International demolished their own world record with a 300 pound, three-foot-wide crab cake that served a whopping 584 sandwiches to the hungry crowd at the Maryland State Fair. The cake took nine hours to cook through and generated $3,127, which was donated to the Maryland 4H Foundation. In case you were wondering, this is what the world's largest crab cake looks like: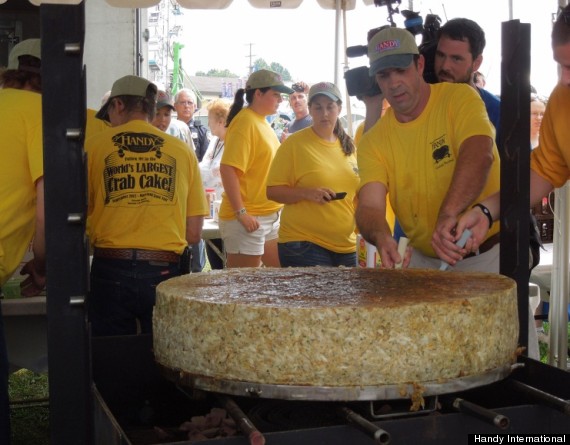 September has been a big month for food world records -- in addition to the crab cake, we've also seen the world's largest cappuccino and the world's biggest bacon cheeseburger.
Hungry for more? Check out our slideshow of some of the world's biggest burgers below!
Also on HuffPost:
Loading Slideshow
1. Bob's BBQ & Grill, Pattaya, Thailand (2007)

Weighing in at 78.5 pounds, <a href="http://www.cheese-burger.net/stories/worlds-largest-hamburger-update.html">Big Bob's Texas Belt Buster</a> was American Bob Schindler's contribution to the Thailand burger scene in 2007. The burger itself contains two heads of lettuce, 15 tomatoes, four whole onions, 35 slices of cheese, 1 cup of ketchup, 1 cup of mustard, four pickles, and four jalapeños. Priced at $400, this burger eclipsed the previous record by over 25 pounds and fired the first international salvo in the race to create bigger burgers.

2. The Ambrosia on the Spot Cafe, Sydney, Australia (2010)

As Crocodile Dundee might say, "That's not a burger. THAT's a burger." Coming in at 90 kg (198 lb.), <a href="http://www.smh.com.au/small-business/australian-cafe-claims-worlds-biggest-burger-20100607-xptl.html">The Ambrosia</a> constructed a special set of metallic plates and holders just to fit its massive burger containing 120 eggs, 150 slices of cheese, and about 5 pounds of lettuce.

3. Mallie's Sports Grill, Southgate, Michigan (2011)

In October 2011, <a href="http://malliesbar.com/GBW.htm">Mallie's</a> created the Absolutely Ridiculous Burger, weighing 338 lb. This burger broke the 2009 record of 185.6 lb., a record they had previously set themselves, and which had outdone yet another Mallie's record. The Absolutely Ridiculous Burger takes 22 hours to make and an army to eat.

4. Chef Ted Reader, Toronto, Canada (2010)

In 2010, Canadian BBQ chef Ted Reader put together a ten-person team to accomplish one goal: create a burger massive enough to hide the sun. While it may not have done that, <a href="http://www.worldrecordsacademy.org/food/largest_hamburger_world_record_set_by_Chef_Ted_Reader_101685.htm">Ted's creation</a> could at least pass for a Pluto-sized dwarf planet. It took six hours to grill the beef, which was 300 lb. in itself. The bun weighed almost 106 lb. And all together, Ted's burger added up to 590 lb. of sheer monstrosity. At that point, it tripled the pre-existing world record.

5. Alameda County Fair, Pleasanton, California (2011)

You thought 590 lb. was the highest it could get? On the 4th of July, the Alameda County Fair celebrated America's grandeur by taking back the record from its neighbor to the north, Canada. The burger contained a bun <a href="http://news.yahoo.com/blogs/san-francisco-bay-guardian/777-pound-burger-alameda-county-fair-one-record-204947723.html">weighing 100 pounds, 20 pounds of onions, 12 pounds of pickles, and 30 pounds of lettuce, for a grand total of 777 lb.</a> and well over a million calories. <em>If you are getting a heartache just looking at all this, other food institutions have created more (at least relatively) human-sized burgers that still pack a punch.</em>

6. In 'n' Out, Various Locations

At California-based burger chain In 'n' Out, <a href="http://supersizedmeals.com/food/article.php/20060125050438458">you can order</a> a 3x3 (3 patties and 3 slices of cheese), or a 4x4 (4 patties and 4 slices). Or, for about $100, you can order the 100x100, with 100 patties and 100 slices of cheese, all between just two buns. The next time you're craving a big-time burger, gather your 99 closest friends and head to the west coast.

7. Heart Attack Grill, Las Vegas, Nevada

Las Vegas is home to many strange and over-the-top attractions, including the Heart Attack Grill. The restaurant <a href="http://grandforksgourmet.areavoices.com/2012/02/16/man-has-heart-attack-at-heart-attack-grill/">celebrates artery-clogging fare</a> like cheese, bacon, and meat, and offers signature health hazards like the Quadruple Bypass Burger. And for an extra $4, the restaurant will add 20 slices of bacon. So order your gut-busting burger, your fries deep-fried in lard, and keep your doctor on speed dial. <em>And if simply ordering a colossal burger doesn't do the trick, take on one of the following burger challenges.</em>

8. Eagle's Deli, Boston, Massachusetts

The <a href="http://www.menuism.com/restaurants/eagles-deli-restaurant-brighton-30485">Eagle's Deli</a> challenge started when hungry college students devoured the largest offering on the menu. The deli decided they would name a burger after them, until someone else could exceed their feat, having their name honor a burger, and so on, and so on. The <a href="http://aht.seriouseats.com/archives/2007/10/the-godzilla-at-eagles-deli-restuarant.html">current Eagle's Challenge</a> stands at 5 lb. of beef, 20 pieces of bacon, 20 pieces of American cheese, 5 lb. of fries, a deli pickle, and a fountain soda. Overtake that, and have your name immortalized on the Eagle's menu.

9. Kooky Canuck, Memphis, Tennessee

A kooky Canadian relocated to Memphis, opened the <a href="http://www.menuism.com/restaurants/kooky-canuck-memphis-606963">Kooky Canuck</a>, and devised the Kookamonga challenge, boasting 4 lb. of beefy intensity. After all the fixings, you have a <a href="http://www.tiffanytastes.com/2011/12/kookamonga-challenge-wrap-up.html">whopping 7.5 lb. burger</a>, and only 60 minutes to devour it. But not everyone needs all that time--the fastest finisher took only 7 minutes and 15 seconds. Just in case you're counting, you'd need to ride a stationary bike for 17 hours, box for 15 hours, or sleep for 200 hours to burn off the over 12,000 calories.

10. Denny's Beer Barrel Pub, Clearfield, Pennsylvania

Denny's has <a href="http://fattyfriday.com/dennys-beer-barrel-pub-home-of-the-worlds-largest-hamburger-challenges">seven different challenges</a> ranging from a meager two-pound Pub Challenger to the massive 123-pound Main Event. Each challenge has a different time limit, and winners receive 50 percent off the burger, a t-shirt, and a place on the Wall of Fame.