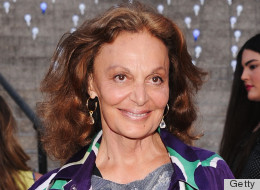 Diane von Furstenberg has never been shy about her loyalty to the Democratic party. The designer has co-sponsored events in support of Hillary Clinton, designed pieces for the Obama campaign's Runway To Win initiative and even vowed to write Michelle Obama an apology letter after criticizing her dress choice. Now it looks like her political interests are becoming more of a priority than her fashion duties.
Like every brand in existence, the CFDA president hosted a Fashion's Night Out event at her store on Thursday. But instead of trying to rile up excitement around shopping, Diane instructed the crowd at her Meatpacking District store to hurry home to watch President Obama speak at the Democratic National Convention, according to "Page Six":
"Everyone here better be a Democrat; no Republicans. Make sure you go home and watch the president at 10 p.m."
The 65-year-old political enthusiast couldn't get out of FNO fast enough, reportedly telling an attendee at her store, "I just want to leave and watch the president talk." We're sure Diane was not alone in these sentiments during the big night though. Anna Wintour, Marc Jacobs and Jason Wu are among the fashion set that has been entrenched in the Obama campaign, so we imagine there were quite a few industry insiders rushing to get in front of a television that evening.
Did you have trouble balancing fashion and political priorities (not to mention, watching the VMAs) during Fashion's Night Out?
See more fashion people with strong political views!
Fashion People with Political Opinions
Probably the most high-profile political fashionista, the Vogue editor-in-chief has thrown multiple fundraisers for President Obama, attended a state dinner as a guest of the White House and is counted as one of the president's top donors. (Getty photo)

The supermodel and her husband, Rande Gerber, donated $4,600 to the Obama campaign in 2008, but has reportedly switched her support to Mitt Romney for the 2012 election. (PMc photo)

As president of the CFDA, Diane von Furstenberg has gotten involved with the president's Runway To Win reelection initiative, which includes many CFDA designers, and has been seen wearing an "Obama" button on her clothes. (Getty photo)

The former model is an outspoken Republican and has voiced her opinion publicly on several topics, including Planned Parenthood. "I think Planned Parenthood needs to reassess and look at what their values are, what their mission is, what their goals are, and do they deserve government funding?" she told Fox News in 2011. (Getty photo)

The American model has donated thousands to Democratic candidates, including Hillary Clinton and Barack Obama. She also served as a delegate at the 2000 Democratic National Convention and collected signatures door-to-door for Al Gore.

Stella threw a President Obama-themed tea party back in 2008, complete with cookies with the president's face on them. (WireImage photo)

The outspoken British designer showed up to the "Occupy London" protests in November and has continually voiced her opposition to global warming and excessive consumerism. (Getty photo)

The designer has been a long time activist for gay rights, producing a line of t-shirts aimed at equality, and contributed a design to President Obama's Runway To Win reelection initiative. (Getty photo)

This supermodel is a supporter of President Obama and recently told Howard Stern she was hoping Obama gets re-elected: "I'm living in London and I'm socialist. What do you expect?" (Getty photo)

The Nepal-born designer is a big Obama supporter, telling us once, "My focus is right now on the positive of the campaign, which is to make sure that my support for the president is full, 100 percent." (PMc photo)

The Marchesa co-designer attended President Obama's state dinner last week at the White House. Together with her husband, Harvey Weinstein, she has also opened up her home for Obama reelection fundraising events. (PMc photo)

Jason Wu contributed a design to President Obama's Runway to Win reelection initiative and is a favorite designer of First Lady Michelle Obama. (Getty photo)
Want more? Be sure to check out HuffPost Style on Twitter, Facebook, Tumblr and Pinterest.