Georgia vs. Missouri Debate: Will SEC Football Debut Go Well For Tigers?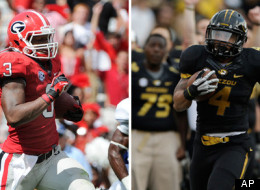 One way or another, it figures to be a night to remember for the Missouri Tigers football program. The No. 7 Georgia Bulldogs are visiting Faurot Field in Columbia as the school begins a new chapter in its sporting history.
"It's the first SEC game, the first SEC home game, so it is going to go down in history," Missouri coach Gary Pinkel told The Associated Press. "They are always going to point at it and talk about it, look at it and how it came out."
Having departed from the Big 12, Missouri faces SEC East foe Georgia in a battle of 1-0 teams. Led by freshman phenom Todd Gurley's three touchdowns, the Bulldogs powered to a ramshackle 45-23 win over Buffalo in Week 1. In its opener, Mizzou hung 62 points on the Southeastern Louisiana Lions. They figure to face sterner challenges from the titans of the Southeastern Conference throughout the season.
Can the Tigers cope with that famed SEC speed? Will the suspension of a few Bulldogs players open the door for a memorable upset?
We've invited Michael Booker of LeatherHelmetBlog.com and Ryan T. Hood at The Maneater to introduce us to both teams and argue on behalf of the one they cover. Whose side are you taking?
Step


1
Pre-debate poll:
Tell us your opinion before the debate starts to set the starting line
No. 7 Georgia Will Defeat Missouri
Agree - Thanks for voting! Please proceed to read the debate below
Please vote to proceed to the debate
Step


2
Who makes the better argument?
This weekend is undoubtedly a big game for both Georgia and Missouri, but more-so for Missouri, and for good reason. Ever since the SEC schedule was released last winter, there has been an inundation of chatter in our great state about how much the game will mean for the new pledges of the conference. For Mark Richt and his Dawgs, it is just another inner-division road game in the SEC.
Missouri fans have taken to the blogosphere and Twitter over the summer to remind UGA fans that their "Zoo" is going to be a tough place to win, especially under extraordinary circumstances. We at LeatherHelmetBlog.com agree, but what they fail to realize is that Mark Richt leads his program into places like Tennessee, South Carolina, LSU, and Bama and wins regularly (check recent records if you think I'm lying). Those places are much bigger and louder than anything Missouri fans think they can throw our way. In fact, during Richt's first 11 seasons in Athens, he has racked up a 30-8 record in true SEC road games. This should not be overlooked.
As far as the game itself, well, nobody has any idea what UGA team will be on the field. By now it is old news that UGA may have as many as four defensive starters watching from the sidelines, and not because of injury. We already know Senior DB Sanders Commings and Junior OLB Chase Vasser will be suspended for being knuckleheads, and it has been widely rumored for months now that All-American Senior FS Bacarri Rambo and star Junior ILB Alec Ogletree may be suspended. Without the latter two, the defense will be very thin and perhaps vulnerable to a duel threat quarterback like the one Missouri will throw at us in James Franklin. However, it has been widely rumored and speculated this week that one or both of them might actually touch Faurot Field on Saturday night. But Richt has taken a new approach this year when it comes to suspensions and, basically, only he and his coaching staff know anything about players' statuses until it's time for kickoff, citing competitive advantages.
Players to watch for UGA Saturday night include All-American Junior OLB Jarvis Jones, who many consider to be the best linebacker in the nation this season. Last year, Jones feasted on opposing quarterbacks, accumulating 14.5 sacks to go along with 70 tackles (19.5 for loss). In addition, Junior QB Aaron Murray is entering his fourth season in the program, third behind center. Last season, Murray threw for a UGA record 35 touchdowns, and a total of 3,149 yards. Plagued by several costly mistakes in 2011, UGA players and coaches alike have made it clear that Murray has emerged as a true team leader and shown vast mechanical improvements going into this season.
The biggest question for UGA, besides how many of their defensive players will be allowed to play, will be the play of an inexperienced offensive line. With three starters graduating to the NFL from last year's squad, young players, including true freshman RT John Theus, are being asked to step straight into the trenches and produce. While they looked good at times, Aaron Murray was still sacked three times last week against the University of Buffalo. Keep an eye on this line, as they will dominate the offensive approach depending on what works and doesn't work on the first couple possessions.
Dawg fans have been exceptionally excited this week after the breakout performance of true freshman RB Todd Gurley, who rushed for 100 yards and two touchdowns, on top of a 100 yard kickoff return for another score. It was reported he was lighting it up during camp and it was obvious he was in no way intimidated by 92,446 fans in attendance last Saturday.
A major storyline for UGA this Saturday night will be the play of Malcolm Mitchell, who emerged as the No. 1 WR as a freshman last season, but was moved to CB (where he was originally recruited) to supplement the abundance of suspensions in the secondary early this season. Mitchell has reportedly turned many heads in camp back at his natural position, but has yet to be seen by UGA fans on the defensive side of the ball. Mitchell was not only hurt during the annual G-Day game in April, but was out last week with a sprained ankle. Reports Thursday of this week had him practicing in a non-contact jersey, with no visible limitations.
LeatherHelmetBlog.com expects somewhat of a high-scoring shootout, especially if UGA has all the suspensions that have been long anticipated. However, Missouri fans may have the impression that giving up nearly 400 yards a game and operating with an undersized offensive line will create a name for themselves. But they are no longer in the "run-and-gun," lollipop Big 12. We have nothing but the utmost respect for the fine University of Missouri, its fans, and traditions, but Saturday night there will be some sad faces wearing that ugly yellow color. Just because the SEC patch will be sewn onto the jersey, doesn't instantly make the talent wearing it any better than the 8-5 team that visited Shreveport just a few months ago.
Dawgs 34 Tigers 23
The eight-month long honeymoon between Missouri and the Southeastern Conference abruptly ended late last Saturday night.
Just minutes after No. 7 Georgia officially became Missouri's next opponent, a game that coach Gary Pinkel has said is of "mammoth" proportions, a Tiger had a few elephantine comments with regards to the Bulldogs.
"It's like watching Big Ten football. It's old-man football," junior defensive tackle Sheldon Richardson said.
Despite Richardson's apparent disrespect toward the conference Missouri now calls home, the Tigers are out to earn some respect from the SEC Saturday night on Faurot Field.
"They got a lot of pride in playing here and Mizzou, they got a lot of pride where they came from," Pinkel said. "We're going into a different league, a great football league. And also when you're new you have to prove yourself. You have to earn respect. My mom and dad brought me up that way. And we're new. The good news is you get to go play, and we'll get the chance to earn some respect."
Georgia offense vs. Missouri defense
Ensuring the first chapter of Missouri's SEC existence has a happy ending will be no easy task, as coach Mark Richt's squad brings a top 10 ranking as well as a Heisman candidate quarterback and a star-studded defense.
While Murray tossed three touchdowns and 258 yards in Georgia's 45-23 season-opening victory over Buffalo, UGA's revelation came on the ground.
The running back position was a big question mark heading into UGA's opener following the dismissal of starter Isaiah Crowell in June. However, if last Saturday's opener was any indicator, true freshman Todd Gurley, who had three touchdowns and 100 yards on eight carries in his first collegiate game, will give the 'Dawgs a legitimate ground game.
Stopping the Bulldogs' potent offense starts up front in the trenches, where Richardson will get a chance to "walk the walk".
That'll be easier said than done, though, as UGA's starting offensive line has an average weight of 308.8 pounds, which is considerably heavier than Missouri's defensive line's average of 280.
So, what recent Tiger opponents most closely resemble Georgia offensively?
Defensive line coach Craig Kuligowski mentioned three teams: Iowa, North Carolina and Texas A&M. Missouri went 3-1 against those squads in the past two seasons, with the loss coming to the Hawkeyes in the 2010 Insight Bowl, a game in which the Hawkeyes gashed the Tigers on the ground for 225 yards on 37 carries.
Control of the line of scrimmage Saturday night will be imperative, not only to contain Gurley, but also to pressure Murray, which, subsequently, would take pressure on the Tiger secondary.
Tavarres King is Murray's favorite target, and he'll likely be matched up with junior cornerback E.J. Gaines, he of the first-team All-Big 12 pedigree. Question marks lie elsewhere in the secondary, though, as senior corner Kip Edwards was banged up most of fall camp and safeties Kenronte Walker and Braylon Webb don't have a wealth of experience between them.
Missouri offense vs. Georgia defense
It's quarterback James Franklin and company's success (or lack thereof) in its first SEC contest that will likely determine the postgame mood at Harpo's.
Six Dawg defenders earned preseason All-SEC honors, including linebacker Alec Ogletree and safety Bacarri Rambo, both of whom were suspended for Georgia's season opener. During a Wednesday teleconference, coach Mark Richt said their status for Saturday's showdown wouldn't be disclosed until game day.
"It's about Mizzou, it's about what we do," junior receiver Marcus Lucas said. "It's about how we prepare. Whoever lines up against us we're going to be able to do our game plan and execute."
Regardless of the statuses of Ogletree and Rambo, Franklin, the dual-threat quarterback from Corinth, Texas, is going to have to evade defenders in the pocket and make smart plays on the run.
Missouri's biggest strength is its wide receiver depth, which Franklin will have to exploit Georgia's run-stuffing 3-4 linebackers with.
Look for Lucas and junior L'Damian Washington to stretch the defense vertically, opening up room underneath for T.J. Moe and Eric Waters.
And then there's that Dorial Green-Beckham guy.
Green-Beckham, the nation's consensus top recruit, led all Tiger pass catchers with three grabs for 32 yards in last week's 62-10 win over Southeastern Louisiana. His big-play ability must be accounted for, and whether he gets the ball or not, his mere presence on the field should free up some space for one of Franklin's other targets.
But, again, for Missouri's star wideouts to get the ball, Franklin's protection is going to have to give him ample time against a front-seven that includes 358-pound nose guard John Jenkins and sack master outside linebacker Jarvis Jones, who got to the quarterback 13.5 times last season.
Special Teams
The last time Missouri played such a high-profile game, the Tigers housed the opening kickoff, setting the tone for their 36-27 dismissal of then-No. 1 Oklahoma in 2010.
Could another nationally televised game in Columbia turn on a play from the third phase?
Redshirt sophomore Marcus Murphy returned two punts for scores last week, and Georgia's punt team is suspect -- the 'Dawgs were the league's worst at covering punts last season and ranked 116th nationally, surrendering 14.9 yards per return.
Prediction
There has been tremendous anticipation for Saturday night's showdown on campus and all across town. The atmosphere inside Memorial Stadium should be rambunctious.
"The whole state, people were talking about this in March, April," Pinkel said. "We're honored to be in the SEC. Certainly we want to produce."
And produce they will. Barely. A costly special teams gaffe by the 'Dawgs ensures Missouri's first chapter in the SEC ends happily for the home team.
Missouri 31 Georgia 27
Ryan Hood covers Missouri football for The Maneater, the independent student news paper at the University of Missouri. Follow his coverage here and follow @ManeaterSports for live-coverage of Saturday's game.
Step
3
POST DEBATE POLL
Did one of the arguments change your mind?
No. 7 Georgia Will Defeat Missouri
VIEW DEBATE ROUND 1 RESULTS
Agree - Thanks for voting again! Here are the results:
moreless AgreeDisagreeUndecided
Michael BookerRyan T. HoodNeither argumenthas changed the most minds