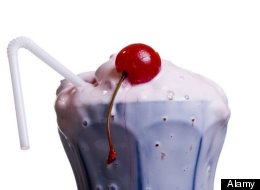 Each month, HuffPost LA joins our friends at Tasting Table to highlight our five favorite finds from the city's sprawling culinary scene. After eating around the city, here's what caught Tasting Table Los Angeles editor Willy Blackmore's eye in August.
What You Missed In August
When a heat wave descends, we can really think about consuming one of two things: beer and ice pops. This Culver City restaurant has made it so we don't have to choose between the two, by freezing selections from its excellent lineup of craft beers to make delicious frozen, boozy treats.

Nakayama employs shiso leaves, tomatoes, cucumbers and other delights grown in the backyard of San Gabriel Valley house in her excellent contemporary kaiseki cooking. We're currently craving the cool, briny delight of the sashimi course featured in each night's menu.

If there's an "adult" frozen treat we're more infatuated with than craft-beer ice pops, it's the liquor-spiked milkshakes served at this LACMA coffee bar. Flavors change daily, but the thin, gulpable texture of the milkshakes stays the same day in and day out.

Drinking in the dark, intimate corner of the Roosevelt known as the Library Bar is a lovely experience, but it doesn't scream "summer." The massive patio at FigOly, the new restaurant and bar at Downtown's Luxe City Center Hotel, does. Matthew Biancaniello does the drinks at both spots, and the Pimm's Cup revision he serves at FigOly, packed with a garden's worth of produce, matches the summery vibe of the patio.

Jason Neroni likes to cook pasta. He put noodles front and center at Osteria la Buca when he was chef at the Melrose restaurant, and his new project, a collaboration with Pitfire Pizza's Paul Hibler, has been billed as a "postmodern pasteria." But the dish we like best, while pasta-like, is a shaved cucumber salad dressed in a fish-sauce-seasoned vinaigrette.