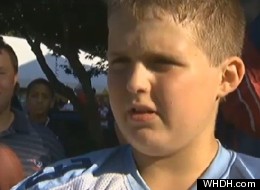 Patrick Canney nearly panicked when his dad collapsed at the wheel, but just one look at his little sister pushed the brave 12-year-old into action.
The Canneys were making their way down Interstate 95 in Peabody, Mass., on Saturday when Patrick noticed his dad was suffering from a seizure, WHDH reports. The youngster grew increasingly nervous, but knew that he had to act fast to protect his baby sister who has special needs.
Patrick steered the car to the side of the road, put it into park, called 9-1-1 and helped his sibling out of the vehicle, according to the news outlet.
"She can't tell me what [Patrick] did," the hero's mom told the news outlet. "But she is here because of him."
While the Massachusetts boy's quick thinking is admirable, he isn't the only tween to have recently prevented a major car accident.
When Miranda Bowman's grandpa had a heart attack and died while driving in July, the New Jersey 12-year-old took control of the wheel and steered it to the side of the road, phillyBurbs.com reports.
"She is my hero," Stephanie Bowman, Miranda's mother, told the news outlet."As much as I am upset about losing my father, I can't even imagine how worse this could have been."
Click through the slideshow below to read even more inspiring stories of heroes saving children.
SLIDESHOW:
After a bus driver responsible for 15 middle-school children suffered a medical emergency and lost consciousness, Jeremy Wuitschick grabbed control of the steering wheel and guided the vehicle to safety, KOMO News reports. Read the full story here.

When Patricia Drauch found her 14-month-old son, Stanley, floating in the pool in the backyard, her worst fears were relieved, News 8 reports. The family dog, Bear, was balancing the little boy on his back to help keep his head above water. Read the full story here.

When Amanat Singh, 9, and her brother, Abhay Singh, 11, realized the popping sounds they heard outside of their Wisconsin temple belonged to a gun, not fireworks, they quickly raced inside to warn the worshippers, allowing some enough time to take cover, ABC News reports. Read the full story here.

When Cynthia Almendarez's baby nephew was having trouble breathing, the 10-year-old calmly called 911 and translated the dispatcher's life-saving CPR instructions into Spanish so that her mother could save the 2-year-old's life, NBC reports. Read the full story here.

After a car plunged down a 10-foot embankment and flipped over, as many as 10 bystanders jumped into the icy Utah river to help save three children, the Associated Press reports. Read the full story here.