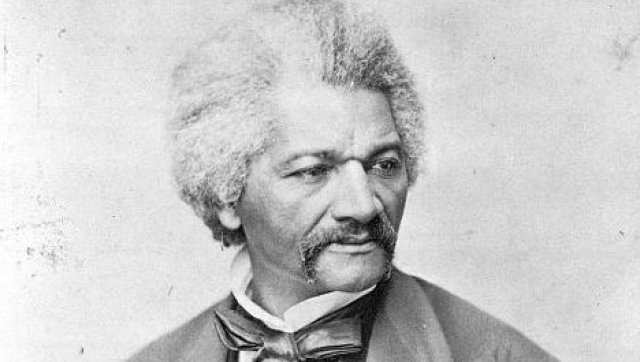 WASHINGTON -- Will Frederick Douglass finally make it into the U.S. Capitol?
The District of Columbia's delegate to Congress, Eleanor Holmes Norton (D), announced Monday that the House of Representatives will be voting on a bill that would permanently bring a statute of the famous former slave and abolitionist into the Capitol's collection of statues, donated by each of the 50 states -- but not D.C. or U.S. insular territories -- depicting notable Americans.
A bronze statute of Douglass, completed by Maryland sculptor Steven Weitzman in 2007, is now on display at the D.C. government's One Judiciary Square building. It was commissioned by the D.C. government in 2006, along with a statue of D.C.'s planner Pierre Charles L'Enfant.
The statue, completed by sculptor Steven Weitzman in 2007, has been blocked from the Rotunda and the Capitol Visitor Center because current law allows only statues from the states -- not from Washington, D.C. -- to be displayed in the Capitol complex.

Two weeks ago, Weitzman asked the D.C. agency that commissioned his work to make a last petition for its placement at the Capitol. But the Architect of the Capitol's office gave Lionell Thomas, the executive director of the D.C. Arts and Humanities Commission, the same answer that he has already heard many times before.

"Until the original legislation is amended, only statues from the 50 states are allowed, by law, in the National Statuary Hall Collection," Eva Malecki, spokeswoman for the architect, told National Journal Daily.
The statue of Douglass is one of two that D.C. commissioned in 2006 -- the second is of Pierre L'Enfant -- to join the two busts that every state is entitled to have in the Capitol's Statuary Hall. Objections have been raised to the city's request, with Republicans noting that since D.C. isn't a state, it shouldn't get any statues at all.

In June, though, the Senate approved a compromise measure that would allow D.C. to have one statue in the Capitol complex. In August, Rep. Dan Lungren (R-Calif.) introduced a similar bill in the House. Today it will vote on the bill under a suspension of the rules, meaning that debate is limited and passage is assumed.
The bill now under consideration, H.R. 6336, would direct Congress to accept the Douglass statue from D.C. and "to provide for the permanent display of the statue in Emancipation Hall of the Capitol Visitor Center."
SUBSCRIBE TO & FOLLOW THE MORNING EMAIL
The Morning Email helps you start your workday with everything you need to know: breaking news, entertainment and a dash of fun. Learn more