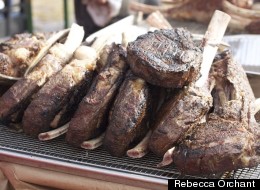 What happens when you put 38 chefs, hundreds of carnivores and thousands of pounds of meat on an island? It becomes Meatopia -- a glorious city of meat where everyone is nice, the beer flows like water and the answer to "what's good here?" is always MEAT. Meatopia 2012 was probably food writer Josh Ozersky's most ambitiously carnivorous event to date, and we have to admit, we had an amazing time in this year's "City of Meat."
We all had apprehensions about the weather holding out that day (there were crazy thunderstorms and even a tornado in Brooklyn/Queens just hours before!), but as soon as we stepped onto the water taxi headed for Randall's Island, got handed an Orleans aperitif and a meat pie and started cruising toward the smell of grilled meat -- we sort of forgot that rain is a thing that exists. All the chefs, bartenders and staff at Meatopia were amazing, and aside from our obvious favorite part (the MEAT), one of the best things about this event was how organized, orderly, spacious and chaos-free it was. Even when the skies opened up part of the way through, everyone calmly found their places to hide (we selected a beer tent, because we have incredible survival skills), while the downpour cooled everyone down and gave us all second winds. For eating MEAT.
There was no denying our unanimous favorite: Aaron Franklin (Franklin Barbecue in Austin, TX) made a beef brisket that may have actually changed our lives. We'd heard the hype before attending the meatfest, but had no idea what a treat we were actually in for. Not only was it the best brisket we'd ever eaten, we all agreed that we had no idea that brisket could even be that good. (Stay tuned this week for a video of us freaking out about this brisket.)
Here are nearly all of the dishes from Saturday's festivities, starting with our top ten favorites from the Meatopian wonderland.
Aaron Franklin, Franklin BBQ (Austin, TX)

Harold Moore, Commerce

Kris Yenbamroong, Night Market (Los Angeles)

Alex Guarnaschelli, The Darby (New York)

April Bloomfield, The Breslin (New York)

Tim Byres, Smoke (Dallas. TX)

Jonathan Sawyer, Greenhouse Tavern (Cleveland, OH)

Naomi Pomeroy, Beast (Portland, OR)

Santiago Garat, Belcampo (New York)

Justin Smillie, Il Buco Alimentari (New York)

Anthony Goncalves, 42 (White Plains, NY)

Phillipe Massoud, Ilili

Jon Adams, Pub & Kitchen (Philadelphia, PA)

Eduard Frauneder, Edi & The Wolf (New York)

Marc Forgione, Marc Forgione (New York)

Serafim Ferdekis, BZ Grill (New York)

Julia Jaksic, Employees Only (New York)

Joey Campanaro, the little owl (New York)

Andy Little, Shepherd Mansion (Hanover, PA)

Noah Bernamoff, Mile End (New York)

"The Fatback Collective": Donald Link, Link Restaurant Group, Ryan Prewitt, Herbsaint; Stephen Stryjewski, Cochon (New Orleans, LA); Sam Jones, Skyline Inn (Ayden, NC); Rodney Scott, Scott's BBQ (Hemingway, SC), Sean Brock, McCradys (Charleston, SC) Nick Pihakis, Jim 'N Nicks BBQ (Birmingham, AL)

Adam Perry Lang, Barbacoa (London, England)

Scotty Smith, RUB (New York)

Scotty Smith, RUB (New York)

John Stage, Dinosaur BBQ (New York)

Siggi Hall, SKVR (Hvammstangi, Iceland)

Shane McBride, Balthazar (New York)

Michael White, Marea (New York)

Thanks to Whole Foods, you have your choice of more than 200 toppings (including ... lemon curd).

Yes, there are fries on that.