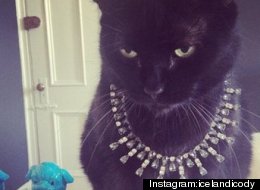 All hail prissy kitties and divine felines! The internet's unofficial mascot, the cat, is taking over photo-sharing site Instagram -- and in $tyle!
Much like the wealthy youngsters featured on "Rich Kids of Instagram," an infamous Tumblr blog documenting flashy habits of monied children via their public photo uploads, many of the spoiled cats on Instagram seem to be living lives more glamorous than ours. These fancy fur balls model upscale accessories, lounge with bottles of champagne, sail on yachts and ponder life while relaxing atop piles of money. They are the "Rich Cats of Instagram" (#RCOI).
To gather these (ridiculous) images, we scoured Instagram statistics site Statigram for portraits of diva kitties living it up. Porches, pedicure, pearls and more await you in the gallery (below), dedicated to the ultimate One Percent of the pet world.
What do you think of these Rich Cats of Instagram? Do you have an image of your own to contribute? Sound off in the comments section, or send us a picture of your own classy cat to @HuffPostTech (or by clicking the link below), and we'll retweet our favorites. Then read up on general Instagram no-no's, or learn more about what happens when rich kids overshare on social media.
UPDATE: For even more amazing snapshots of spoiled felines, check out this tumblr.
Don't I look sophisticated? Yes, I do. Source: sophietowne

Don't mess with my throne. Source: sijoyce

And my #RollsRoyce is parked out front, next to the fountain. Source: mrsjennyryan

"Anything is possible!" Source: emilylouise_b

Louis Vuitton... need I say more? Source: mandy_deanne

This is only "casual attire." Source: icelandicody

Nope, you can't drive it. #SorryImNotSorry Source: stevemoretto

Why yes, in fact, I do bathe in money. Source: loaam

I only accept gifts that come in this packaging. Source: baddy_kriss

This color is all the rage. Source: ashley_maine

New decree: Tuna all day, everyday. Source: niinii_q80

Are you blinded by my bling? Source: etch_

Dancing pic after six glasses of Dom. #YOLO Source: earlybirdcat

Please don't disturb. Source: lauraleeeee

Time for you to realize my watch cost more than your rent. Source: mitchellcio

Any picture with Ray Bans makes you automatically awesome. #Hipster #DontEvenTry Source: edenwestbrook

It's my world -- you're just living in it. Source: riorio629

Touch me and I'll claw your eyes out. Source: demet

This food is organic, expensive and all for me. Source: missmonvitoo

"What's a weekend?" Source: isteez

I don't actually eat it -- I just like knowing it's there. Source: mandykamps

This lollipop is laced with gold. Source: victormariano

No, this tie isn't ironic. And neither are my Polo pants with little lobsters on them. Source: itsdanilove53

Happily in the 1 percent. Source: yusemi1

vivavivvi:"Paint me like one of your French girls, Jack!"

2tailbuddies:This is Mino, he is so posh.

2tailbuddies:Mino, has his own iPad to appreciate his pic on IG

Alexis Siler MacMillan:I only lounge on mink #RCOI

vivavivvi:My, what a big roll you have!

moivelous:It's important to accessorize.

GinaLou24-7:lounging about in my pearls.

Brittney Reyes:Diamonds are a girls best friend

Linda Pricci:At the end of a long day of napping, Luna likes to curl up on this bear skin rug she acquired while on safari.

Moncitou:I will pose, but just this once!

Marcia Siebers:

hambrock7:What? Me! birdwatching?! Don't be rediculous!