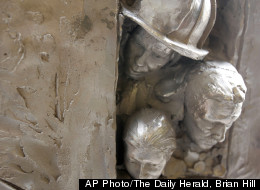 Since the tragic events of September 11th, 2001, artists from the United States and abroad have attempted to capture the variety of responses they have both felt and perceived in the aftermath of the attacks. From personal accounts of the towers' collapse to memorial works that pay homage to others' experiences, members of the visual arts world have been pivotal in recording how history has responded to the event that changed our perceptions of America and the world.
So in honor of the 11th anniversary of 9/11, we've put together a slideshow of artworks that were inspired by the events of that day. Including pieces by Eric Fischl, Roy Ray, Zurab Tsereteli and Serhat Tanyolacar, the collection of paintings, photographs, installations and sculptures show just how vast the emotional response to the tragedy has been.
Scroll through the slideshow below and let us know what you think of art after 9/11 in the comments section. Do you know of any other works that address this tragedy?
Artworks Inspired By 9-11
Jessica Jamroz's "Empty Sky Memorial." An arch of light forms on the walls of the newly constructed 'Empty Sky Memorial' at Liberty State Park on Sept. 7, 2011 in Jersey City, New Jersey. The concrete and steel memorial designed by architect Jessica Jamroz pays tribute to the 746 citizens of New Jersey who lost their lives on Sept. 11. The memorial will officially open on September 10th with a ceremony that will be attended by families of 9/11 victims. (Photo by Justin Sullivan/Getty Images)

"911" by Robert Selwyn. Mr. Selwyn, who had one of the World Trade Center studios, painted the Towers during the immediate aftermath of the tragedy.

Barron Claiborne's "Osama Bin Laden Destroyed My Photographs." "These are 8x10 polaroids taken between 1998-2001. At the time, my studio was located at 98-100 Greenwich St. The damage was caused by debris and the triggering of the sprinklers. I put them in a box and didn't open it until 2010." -Barron Claiborne

Wolfe von Lenkiewicz's "House of Mourning," 2008, pencil on Japanese restoration paper, 73 x 56 cm. "I thought instead of birds, I would have butterflies - giant ones hatching from the Twin Towers like a chrysalis..." -Wolfe von Lenkiewicz to Dazed Digital.

Serhat Tanyolacar's "Kiss." The sculpture presents two jubbahs, traditional Islamic garments, shaped into kissing figures. "My whole reasoning is having some type of positive, social, public awareness -- bringing some constructive public awareness to make people think," said Serhat Tanyolacar to The Queens Courier.

Gregory Hilton's "WTC/Mosque Series #1345," 11" x 14" heat transfer on wooden panel, © 2011 Gregory Hilton. Gregory Hilton was watching television in his Chambers Street loft when he heard what sounded like a "freight train loaded with dynamite, going 100 miles an hour, hitting a brick wall and blowing up." (via LaGuardia Community College exhibition "Remembering 9/11")

Faith Ringgold and Grace Matthews' "Peace Quilt." "Following the tragic events of September 11, 2001 and in response to a rise in intergroup violence, the InterRelations Collaborative brought together young New Yorkers from ethnically diverse communities across the City to participate in IRC's Post-9/11 PeaceMaking Initiative to diffuse intergroup tensions and prevent intergroup conflicts." -InterRelations Collaborative website.

Ultra Violet's "IX XI (Nine Eleven)," 2010, Aluminum, 3' x 3' x 1.5'. "Inscribing the date of 9/11 as "IX XI" n this series of artworks is my way of creating a regal remembrance of the sorrowful events of that day." -Ultra Violet on her website.

Tribute in Light. "Tribute in Light is one of the most powerful and healing works of public art ever produced. The majestic blue twin beams are presented annually by MAS, shining from dusk on September 11, through dawn the next day. Visible within a sixty-mile radius on a clear night, Tribute has become a world-renowned icon of remembrance, honoring those who were lost, as well as those who worked so hard to get our city through that terrible trial." -MASNYC website.

Eric Fischl's "Tumbling Woman." A poem by Eric Fischl that appeared on a plaque near the sculpture: "We watched, disbelieving and helpless, on that savage day. People we love began falling, helpless and in disbelief."

The World Trade Center cross, also known as the Ground Zero cross, is made of steel beams found amidst the debris of the 9/11 terrorist attacks that resembled a cross.

Eric Blome's Sept. 11 tribute sculpture. The faces of first responders are seen in Illinois artist Eric Blome's Sept. 11 tribute sculpture. Blome's 22-foot-tall, 2-ton sculpture incorporates four twisted 8-foot beams from the World Trade Center into the piece, which is adorned with sculptures that capture the emotion of the day. The creation was commissioned by the city of Oak Lawn for its 9-11 memorial. (AP Photo/The Daily Herald, Brian Hill)

Franco Castelluccio's "9/11 Pieta." Florida artist Franco Castelluccio was in New Jersey on Sept. 11. His sculpture pays tribute to the first responders at Ground Zero.

Miya Ando's "After 9/11." London Mayor, Boris Johnson, unveils a sculpture made from steel recovered from the World Trade Center after the Sept. 11 terrorist attacks. The piece was designed by New York artist Miya Ando and was uncovered in Battersea Park in London on Sept. 5, 2011. The artwork, called "After 9/11," was commissioned by the 9/11 London Project to mark the launch of its new education program. (AP Photo/Akira Suemori)

Roy Ray's "Evilution: Where Their Footsteps Left No Trace." British artist Roy Ray stands by his artwork at St. Peter's Church near ground zero in New York Saturday, July 30, 2011 during a dedication of Ray's artwork called "Evilution: Where Their Footsteps Left No Trace." The five-paneled artwork, which represents historic events that caused devastation at Dresden, Hiroshima, Auschwitz, wartime Coventry and New York on Sept. 11, 2011 was dedicated to Rick Rescorla, Father Mychal Judge, and 9/11 first responders. (AP Photo/Craig Ruttle)

Lei Hennessy-Owen's "Freedom's Steadfast Angel of Love." Firefighters stand in front of the covered 'Freedom's Steadfast Angel of Love' sculpture during a memorial for Christina-Taylor Green at Kriegh Park April 1, 2011 in Oro Valley, Arizona. A "Freedom's Steadfast Angel of Love" statue created from a beam from ground zero, a piece of steel from the Pentagon and a large rock from the Flight 93 crash site was designed by sculptor Lei Hennessy-Owen and was unveiled to honor the 10-year-old. Jared Loughner is responsible killing Green and five others and the attempted assassination of U.S. Rep. Gabrielle Giffords during a shooting at a shopping plaza in Tucson in January. Green was born on 9/11. (Photo by Joshua Lott/Getty Images)

Zurab Tsereteli's "Monument to the Struggle Against World Terrorism." The monument was designed by sculptor Zurab Tsereteli and is seen here during its dedication at The Peninsula at Bayonne Harbor on September 11, 2006. The Tsereteli sculpture is a gift from Russian President Vladimir Putin and the Russian people. (Photo by Sylwia Kapuscinski/Getty Images)

Bruce Brooks' "Tree of Blood," 60"X54" on canvas. Materials are mixed mediums; oil, acrylic, alkyd, collage, enamel, charcoal. "I was working on 'the Tree of Blood' that September 2001. It was the beginning of a group of works that were 'Tree' oriented triggered in part by my interest in Bonsai, Newaki and trees as entities in general. When the Trade Center was destroyed my tree colors turned to blood, red, white, and blue appeared and the churning and turbulence combined with my shock. For the first and only time I actually wrote something in the painting: 'Tree of Blood,' which harped upon my reaction then and now. I think about the work a little the way I think about Goya's 'the Third of May,' the image and the history are of horror, yet the formal power of the painting lives on today. Goya's painting in spirit is part of 'Tree of Blood' and more importantly, part of the 9/11 murders." (via LaGuardia Community College exhibition "Remembering 9/11")

Ursula von Rydingsvard's "Mama, build me a fence," cedar, graphite, chalk, 168 x 367 x 17 inches (426.7 x 932.2 x 43.2 cm), (c) Ursula von Rydingsvard. Courtesy Galerie Lelong, New York. "The one piece definitely connected to 9/11 was 'Mama, Build Me A Fence,' because it was the first piece I made after that day." -Ursula von Rydingsvard

Mary Miss' "Moving Perimeter: A Wreath for Ground Zero." Flexible partitions with openings at the top replace police barriers. Visitors bringing flowers to Ground Zero would help create a wreath around the site.

Fritz Koenig's "The Sphere," the iconic bronze sculpture that miraculously survived the 9/11 attacks on the World Trade Center.