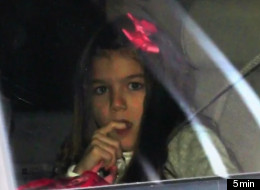 On Tuesday morning, Suri Cruise officially started her first day at New York's newest private school.
E! News reports that the world's most famous 6-year-old was spotted arriving for her first day at Avenues, the $40,000 a year school located not far from the Chelsea apartment where she lives with her mother, Katie Holmes.
As always, paparazzi were waiting outside Holmes' apartment and photographers managed to snap a few photos of Suri sitting in the car. The little fashionista is required to wear a school uniform consisting of a white polo shirt, blouse or turtleneck, along with gray or black pants, skirts, a jumper or shorts. Students are allowed to wear accessories of any color, so it's no surprise that Suri decided to rock a pink hair bow, which complemented her pink cheetah-print backpack.
Katie and Suri were driven to school in a large gray SUV, but there was no sign of Tom Cruise. RadarOnline had previously reported that the recently divorced couple were planning on setting aside their differences so they could both be there for Suri's big day.
According to DNAInfo, paparazzi were waiting for Suri both on Monday for orientation and for Tuesday's first classes. Police sources told the website that Suri's car was let into the school's barricaded-off garage, and closed before the paps could get a shot of Cruise saying goodbye to her mother.
That type of scene is reportedly what parents of other Avenues students were worried about. "I had two different parents call to tell me their children are beautiful young girls that look like Suri," education consultant Dana Haddad told Page Six last week. "The girls will all be in uniforms, and they're worried their daughters will be mistaken for Suri by the paparazzi outside the school."
But other parents say people are overreacting. Andy Vogel, who enrolled his 9-year-old twins at the school, told DNAInfo, "It's not too bad. They hide well, I haven't seen many [photographers]. I haven't seen her either, we parents don't really know anything about it."
Splash News

Splash News

Getty Images

Splash News

Splash News

Splash News

Splash News

Splash News

Splash News

Splash News

Splash News

Splash News

Splash News

Splash News

Splash News

Splash News

Splash News

Splash News

Splash News

Splash News

Splash News

Splash News

Splash News

Splash News

Bauer-Griffin

Pacific Coast News

Suri Cruise has been named the Most Stylish Child in the World, according to a poll organized by British clothing store Twisted Twee. She beat out Blue Ivy Carter, Willow Smith and Harper Beckham for the coveted title. Gillian Pensavalle hopes the other children will survive the devastating news and that Suri's Burn Book has something to say about the survey.

6-year-old Suri Cruise, the daughter of Katie Holmes and Tom Cruise, is known to be a fashionista. She even scored a spot on InStyle Magazine's "Most Fashionable" list. But the tot reportedly is racking up a $150,000 collection, and only wears designer shoes. Kristina Behr has the details.