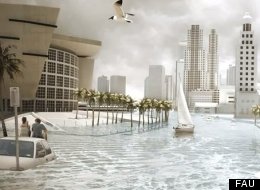 The Broward County Commission began preparing for rising sea levels Tuesday by enacting a climate change plan, the Sun Sentinel reports.
To the dismay of developers, the plan would impact future building plans, energy use, and green living to prepare for what scientists widely believe to be rising sea levels. By 2060, the commission said, residents in coastal communities could be swimming at their door steps.
The commission hopes to avoid future problems like flooding, sewer failure and contaminated drinking water by implementing the blueprint now.
Miami-Dade County would also be heavily impacted by rising sea levels. Scientists believe that by 2030, oceans could be up to 7 inches higher, according to the Southeast Florida Climate Change Compact. By 2030, this could be up to 2 feet. The projections were calculated by utilizing Key West's tidal data from 1913 to 1999.

"By the end of the century, a little under 100 years from now, there could be four to six feet or more of sea level rise above the present sea level," Harold Wanless, chairman of the University of Miami's geological sciences department, told the Biscayne Times. With a 4-foot increase in the ocean, only 44 percent of Miami-Dade County would remain above water, Wanless said.
To see which parts of Florida would be underwater, check out Geology.com's interactive sea levels chart -- or click play on the video above from FAU's John Michael Wilyat and Jammy Chong, which shows street-level Miami views of rising seas including water lapping at the front steps of AmericanAirlines Arena.
Even though these troubles seem far off, the ocean's changing levels are already impacting South Florida. Miami Beach is considering an upgrade of its drainage system, which is already experiencing overloading during heavy storms, causing flooding, Miami Today reports. The price tag: $206 million.
"It's the first time, as far as I know, that any community in South Florida and actually in the entire state of Florida is taking into account sea level rise as they plan their storm water infrastructure," Miami Beach public works director Fred Beckmann told the Miami Herald.
During extreme high tides, water already floods parts of South Beach.
Unfortunately, rising sea levels is just one of many ecological issues facing South Florida, said Matthew Schwartz of the South Florida Wildlands Association. See his roundup of what other issues could impact our environment:
10 Challenges Facing South Florida's Environment
In 2005, National Geographic ranked the Florida Everglades/Big Cypress National Preserve as the worst preserved national park in North America. Though it is protected land, urban sprawl is pressed right up against wildlife habitat and motorized watercraft chop up seagrass, especially in shallower bodies of water like the Florida Bay. "These public lands should get all of the protection that they can get. Wildlife, they're the last consideration. More than anything, these national parks were established not for recreation but to protect these valuable resources that we have," Schwartz said.

With Florida's growing population comes cars and never ending construction -- right up to the edge of the Everglades. According to the Wildlife 2060 report prepared by the Florida Fish and Wildlife Conservation Commission, 7 million acres of rural and natural land could be converted into urban space in the next 50 years. That's hundreds of thousands of acres lost to Florida's wildlife, such as the black bear, panther and bald eagle. "South Florida is clearly a biological hotspot... protected areas are going to become little islands, completely separated from each other by roads and development. We might in our minds imagine that that's OK, that wildlife can still live on these little patches of public land, but that's not always the case," Schwartz said.

Not only does CO2 go into the air, but it also is pulled into the the oceans, creating carbonic acid. That combined with pollution, acidification, ocean warming, overfishing and deoxygenation could lead to mass extinctions in oceans around the world, according to finding by a symposium hosted at the University of Oxford. Considering how much of Florida is surrounded by water, this has a large impact on the ecosystem and essentially, the state's economy.

The tri-county area in South Florida relies on the Biscayne Aquifer, and with Florida shifting between the wet and drought season, it can be difficult to supply drinking water to the millions of people who need it. New plans are to build reservoirs in the northern edge of the Everglades.

Stormwater drains capture rainwater on roads and move it into canals and, eventually, the ocean. However, the water is generally not cleaned. That means antifreeze, gasoline and any other toxins from cars goes into Florida's oceans. Cities like Miramar are working to educate its residents about how to avoid dirtying this water to avoid having to clean it later.

Florida is surrounded by major drilling projects, including those by our neighbors Cuba and the Bahamas. Should there be an oil spill, the state is in danger of it being fed into Florida's loop current, Schwartz said. Luckily, this wasn't the case in the Deepwater Horizon spill in 2010, but should an oil spill reach Florida's loop current, the effects on the state's ecosystem would be catastrophic. "We've got oil drilling on all three sides, we're surrounded by oil," Schwartz said. "Given the amount of oil drilling out there, we can't expect that to keep happening."

With warmer waters comes melting ice caps, leading to the flooding of many of Florida's coastal cities. Not only that, an increase in ocean would lead to the flooding of the Biscayne Aquifer, which would contaminate the tri-county area's prime source of drinking water with salt water.

In 2011, the National Resources Defense Council named Florida the third most toxic state in the country, based on its output of pollution from power plants. The same year, a power plant was proposed to be built in panther habitats. With more people moving to Florida, more energy is used, and experts, including Schwartz, believe there needs to be more investment in cleaner energy, like solar power, and calls upon Florida Power & Light to move in that direction.

Everyone talks about the "carbon footprint" each person leaves behind. In such a car-reliant region such as South Florida, carbon dioxide is emitted into the air and ocean. Generally speaking, about one gallon of gasoline can produce 20 pounds of carbon dioxide. With projects such as the $1.2 billion I-595 expansion project in Broward, this could get worse. However, there has also been a push for improving on the area's public transportation, including Miami's trolley, Decobike, adding a new line on the Metrorail, and the construction of the Miami Intermodal Center.

Miami-Dade's water and sewage lines are falling apart. In the last two years, pipes have ruptured 65 times and caused 47 million gallons of waste to be deposited into the ocean. In November 2011, about 40,000 gallons of raw sewage was dumped into the ocean when a line burst in Hollywood.