Chillest Cat Ever Caught Relaxing In The Sun (VIDEO)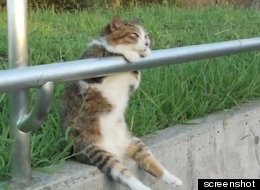 We've seen some pretty cool cats, but this has to be the chillest cat we've seen.. ever.
Soaking up some rays while contemplating life in a startlingly human-like pose? Check.
While we work away in the HuffPost offices, we're super-jealous of this kitty's time in the sun.