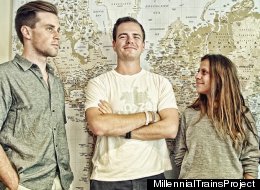 Patrick Dowd is organizing train rides across America to mobilize the Millennial generation. Bill Cunningham fills empty space in trucks to lower shipping costs. Danny Kennedy is making solar energy a reality, and Fabio Rosati connects stay-at-home moms to part-time work. What these entrepreneurs have in common is that they aren't waiting for Washington.
As the election season creates political gridlock in Washington, private citizens need to step up to address the jobs crisis. As Arianna Huffington, President and Editor-in-Chief of The Huffington Post, explains, "It's increasingly clear that we can't wait for Washington to send the cavalry." It's about "what we the people can do to accelerate job creation and fill job openings," Huffington says.
It is in that spirit that The Huffington Post launched its Opportunity: What Is Working section, devoted to showcasing the ideas of entrepreneurs, thought leaders and small business owners like those above who are making an impact. The Huffington Post featured over 100 such young business mavericks in entrepreneur expos in Tampa and Charlotte, tied to the political conventions, over the last two weeks and profiled nine of them in the Opportunity section. These entrepreneurs demonstrate that "The innovative spirit of American communities is alive and well all across this country," as Judith Rodin, the CEO of the Rockefeller Foundation, said.
Though their stories are varied and their backgrounds diverse, there are common trends and ideas that bubble to the surface. By looking at the spirit of what makes these Americans successful, we can form a better path forward for those who aspire to help the struggling economy.
What We Can Learn From The 'Opportunity' Entrepreneurs
In the profile of the Millennial Trains Project, founder Patrick Dowd described the powerful experience of connecting with 450 young Indians who all wanted to improve their country. Dowd was so moved by the community on board the Jagriti Yatra, he brought the idea back to America and is bringing together over 100 members of the Millennial generation to ride across America to listen, learn and create solutions together.

After he grew disillusioned with the bureaucracy of a large company, Elance CEO and President Fabio Rosati found a project where he could again feel connected to a distinct mission. Today, Elance's clients connect to a global marketplace of freelance work in a remarkable new way.

Brian Balasia, CEO of Digerati,commented on the power of seeing other entrepreneurs at work and how much easier it is to start your own company after seeing the success of others. Balasia's employees at Digerati confirmed this idea when they themselves followed his lead and went on to start businesses and continue the chain of entrepreneurship.

During one of HuffPost's job creation panels, Allen Blue, co-founder of LinkedIn, said "Whenever I talk to young people, I always talk to them about finding something that they care enough about that they can build the energy behind it to acquire the skills they need. To follow that passion down the road toward something which is going to be great for them."

When faced with a torn rotator cuff,Samer Hamadeh founded Zeel, an online platform helping people find accredited, convenient and affordable Complementary and Alternative Medicine (CAM) practitioners. Hamadeh's anger over the lack of an easy way to find CAM specialists led him to create the solution. As Hamadeh explains, "When there's a product or service that you so desperately want but no one's offering, you become so compelled and so pissed off that you say, 'Let's go start it.'"

Craig Powell founded ConnectEDU after growing outraged over the inefficient college application process. "The system is just so damn broken," Powell said. "At every turn you see how broken it is. If you have an ounce of democratization, you realize that this is an issue that needs to be dealt with." Powell dealt with it, and now ConnectEDU helps both students and colleges view admissions in a new way.

Sungevity co-founder and President Danny Kennedy learned how effective positivity is while running campaigns for Greenpeace: "I saw how people get inspired by positive vision and saying 'Yes' to things," Kennedy said. "You can get people supporting a cause if you're more about the for than the against."

Matt Singer, the co-founder and CEO of Videolicious, used his passion for video to create an easy-to-use platform so small business owners could market themselves in a more personal way. He believes in the power of video so much he found a way to share the power of video with everyone.

Walter Isaacson, CEO of the Aspen Institute pointed out that passion isn't enough: "The second point is to not just follow your passion, but something larger than yourself." These entrepreneurs didn't just follow their passion, they found the point where their passion met a need and used their passion to create something bigger than themselves.

OneMorePallet grew out of founder Bill Cunningham's observation of empty space. He used the power of technology to take advantage of a market opportunity, empowering small businesses by lowering shipping costs and benefitting shippers who were able to make something out of what was nothing.

Though Charlie Kroll's story of surviving the dot com bust is a good example of perseverance, all of these stories include an underlying message of how important hard work is. These innovators found it to be essential to achieving the American dream.