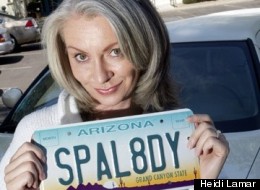 One of the reasons I started my website is that I wanted a place for women to come together and dream. We women need to know that we don't have to hang on to an old dream that has stopped nurturing us -- that there is always time to start a new dream. This week's story is about one woman who thought she was buying an office building to rent it out, but started down a whole new path when she took over the little spa that came with the building. -– Marlo, MarloThomas.com
By Lori Weiss
At the ripe old age of five, Heidi Lamar learned how to turn lemons into lemonade. It wouldn't have been an unusual feat for a girl her age, had she decided to set up a stand and sell the refreshing drink to passers-by on a hot summer day. But even as a child, Heidi seemed to see opportunity where others might have seen impossibility -- or in this case -- a very cold snowy day in Seattle.

"Looking back, I'm not sure my logic was all that sound," Heidi laughed, "I had to put on a snowsuit to set up the card table."
Heidi's mother warned her that if she was serious about this venture, she'd have to keep her little stand open until she sold every drop -- most likely thinking that once frostbite set in, the young entrepreneur would come to her senses. But it wasn't long before a family drove by, rolled down the window and bought the entire pitcher.
"I sold it to them for a dollar," Heidi recalled, "and they thought that was such a great deal, that they asked what else I had to sell. So I led them to the garage and showed them boxes of apples my mother had stored away. And they bought each of those for a dollar too! I didn't really understand the whole bottom line thing back then or that those apples weren't exactly part of my inventory.
"So there I was, rapping at the door with my mittens, and holding up a fistful of dollars. And that's when I was hooked. Everywhere I looked, I saw an opportunity to sell something."
By the time she was six, Heidi was a budding young DJ. By putting a box over a radio and allowing a slot for quarters, she created her own jukebox. At eight, she used the purple bike she'd gotten for Christmas to deliver groceries to the neighbors. And by 10, she was making her way down to the Cedar River, loading up buckets of wild blackberries, and selling them for five dollars a bundle.
"I was taking the zip lock baggies from my mother's kitchen," she said with a smile, "so there was no overhead! I just held up a sign by the road that said, If you bring your wife blackberries, she'll bake you a pie. I don't know how many of those men actually got pies, but I sold a lot of blackberries."
Heidi saw opportunity everywhere, so much so, that by the time she was 16 and all the other teenagers were talking about the kinds of cars they'd like to buy, she already had several savings accounts and CDs. She even started thinking about putting a down payment on a house and renting it out, so she'd have a steady source of income.
So no one was surprised when she got her real estate license and bought that first piece of property at 21 -- a home she still rents out today. Nor were they surprised when, as she was approaching 40, she bought an office building with the idea of leasing out the space. She was an entrepreneur, after all.
But it was the skill she learned at five -- turning lemons into lemonade and selling it in the midst of a snowstorm -- that would help her turn that nondescript building into a luxury destination. Something she never planned on doing, but would change her career path and her life forever.
"There was a spa inside the building that wasn't doing well," Heidi explained. "The owner had died suddenly and her father was selling the building, but hoping to find someone who would keep his daughter's vision alive. I refer to it as my gift with purchase. I didn't know the first thing about running a spa. I can count on one hand the number of times I'd even been in one. But I knew the location was great and if I could get someone in there to run it, it would be a great investment."
And that's what Heidi did. She hired a spa director with lots of experience and thought she was on her way -- until a family emergency summoned the woman back to her hometown in South Africa -- and with two days notice, Heidi found herself holding the keys to the spa and to her future.
"I tried to hire someone else, but she missed her kids and moved back to Miami. And it was at that point that I realized I was going to have to learn how to run a spa."
Story continues below slideshow.
It Ain't Over: Heidi Lamar
Heidi Lamar never planned on becoming a spa director when she bought an office building. She just thought she would lease out the space. But with the building came an ailing spa and before she knew it, Heidi had a new career.

Although she never planned on becoming spa director, even as a child Heidi knew how to turn lemons into lemonade. And after a series of management mishaps, Heidi stepped in and took the reins of the spa.

Today, Spa Lamar is the largest privately owned resort-style spa in Scottsdale, Arizona, an area that has the most spas per capita in the world. Here, guests relax in the spa atrium before their services.

When Heidi first took over the spa she developed a trade agreement with the Phoenix Suns. She would provide services to the team's cheerleaders in exchange for Spa Lamar's name on the scoreboard. Soon, she had an influx of male guests!

In 2008, after being named #7 on the "Phoenix Best Places to Work" list, and being awarded the "Best Day Spa" title by Phoenix City Search, Spa Lamar won the "Made It To A Million" award, which is presented by Femtor. And, here, Heidi accepts the Arizona Small Business Association's award for "Company To Watch".

She may not have had experience when she took over, but Heidi certainly had a vision for the spa. Instead of just renovating the rundown spa, she expanded it. As tenants moved out of the office building, Heidi expanded the spa's services, adding a yoga studio, hair salon and an event room.

Heidi wanted to create a space that offered local residents and business-class travelers a luxury experience without the cost. So, when she took over, she immediately started to refurbish the spa. Here, the outdoor pool and spa before Heidi began renovations in 2004.

Here, the pool and spa at Spa Lamar after the renovations were completed.

Looking to completely makeover the spa's existing structures, Heidi did a number on the spa's changing rooms. Here, a look at the dressing rooms before Heidi made improvements in 2004.

Today, at Spa Lamar, the changing rooms are known as private changing cabanas. Here, a look at the completely refurbished changing rooms.

Never forgetting her roots, Heidi set up a fresh fruit and beverage bar in the atrium of the spa, so the first thing guests see when they enter is fresh lemonade and fruit. Here, a look at the refreshment bar before renovations in 2004.

Even today, Heidi is still giving away lemonade and apples. Here, a look at the fresh fruit and beverage bar at Spa Lamar after the renovations show the improvements she's made since first taking over the spa.

When Heidi set up her first lemonade stand in the snow, her mother warned her that if she was serious about the venture, she'd have to stay outside until every drop was sold. Not only did she sell all her lemonade that day, Heidi even sold her mother's stash of apples. Here, Heidi and her mother celebrate Mother's day with chocolate covered strawberries and wine at Spa Lamar.

Heidi's first entrepreneurial venture was at the age of five, when she set up a lemonade stand on a cold and snowy day in Seattle. Since she was such a success, Heidi continued her business. Here she poses with friends in front of one of her early lemonade stands.

And, at the age of six, while visiting her grandparents RV lot, Heidi turned a radio and a refrigerator box into a jukebox. By putting the box over the radio, she charged residents a quarter to listen.

By the age of ten, Heidi graduated from lemonade stands to wild blackberries. She would make her way down the Cedar River, loading up buckets of berries, which she would sell for $5 a bundle. Here, Heidi saddles up for one of her blackberry picking trips.

Throughout her many business ventures growing up, it was Heidi's grandfather who acted like a mentor and helped her to develop her inner entrepreneur. Here, Heidi poses with her "Grandpa Butch".
So the successful real estate agent immersed herself in the industry, going to trade shows where she quickly realized that she was the only one who hadn't begun as a massage therapist, hairdresser or aesthetician.
"People would say, 'do you realize there are more spas per capita in Phoenix than any other city in the world?' Everyone thought I was crazy, but they'd been telling me that my whole life."
So in a city literally blanketed by high-end resorts, Heidi looked for an opportunity, and as she had her entire life, she found one. The desert area had no shortage of pricey getaways and what Heidi refers to as "the AND spas", places that were actually hair salons, but also offered facials. What didn't exist though was a place that offered local residents and business travelers the same kind of luxury that vacationers came to experience, at a price they could afford.
With absolutely no experience, Heidi not only renovated the worn-out spa, but gave the entire building a makeover. As tenants moved out, she took over the space, adding a yoga studio, hair salon and event room and doubled the area for nail and aesthetic services. She turned the aging building into the kind of space that makes one feel as if they're visiting a wealthy relative's estate.
And then she sold the spa's services in the same way she sold lemonade in a snowstorm -- with a little bit of charm and a whole lot of moxie.
Heidi developed a trade agreement with the Phoenix Suns. By providing services to their cheerleaders, she landed a spot on the scoreboard. And it wasn't long before the spa suddenly had a large influx of male guests.
"I'm pretty sure they come in hoping they'll run into one of the girls," she laughed, "but they return because they like it. And now women come in, because they know the guys hang out here!"
Next she established relationships with hotels that didn't have spas and even the ones that did. "We became the place they sent their guests when they were full or if they sensed the person would go without a massage rather than pay a resort rate. And we always made sure everyone came back raving. There's one hotel that even linked the spa button in the rooms directly to our desk -- which allows them to advertise a spa package.
And today Spa Lamar is the largest privately owned resort-style spa in Scottsdale, Arizona. But Heidi hasn't forgotten her roots. As you enter the atrium, where guests relax before their services, the first thing you see are pitchers of ice cold lemonade -– a sweet reminder of the lessons she learned so early in life.
"In the spa industry, you're not supposed to have 'happy endings,'" Heidi said with a grin, "but I definitely got mine.
"I think in life you have to learn to look beyond the lemons. I guess it's an attitude -- a way of seeing things. And that's a choice -- to be open to the possibility that something might be sweet. There's opportunity everywhere. You just have to be open to it."
Add Marlo On Facebook:
Follow Marlo on Twitter:

Weekly Newsletter

Sign up to receive my email newsletter each week - It will keep you up-to-date on upcoming articles, Mondays with Marlo guests, videos, and more!

Sign up here