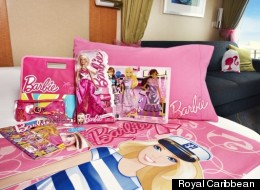 Oh boy, er, girl, we're about to hit pink overload on the high seas.
Royal Caribbean has announced plans for a Barbie-themed cruise, complete with activities such as "Tiaras & Teacups" for passengers from ages four to 11.
Dubbed the Barbie Premium Experience, passengers will get a Barbie-themed state room (think Pepto-Bismol pink blankets, pillows and toiletries), a mermaid dance class, a fashion designer workshop and, oh yes, a fashion show. The package costs $349 and will be offered on all 22 Royal Caribbean ships beginning January 2013, according to The Telegraph.
This Barbie package reminds us ever-so-slightly with another too cute to believe amenity on EVA Airlines. Check photos of Hello Kitty at 30,000 feet in the slideshow below.