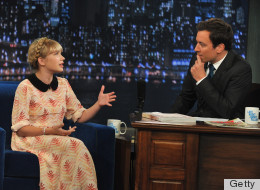 Tavi Gevinson is no stranger to "bitchface" -- as probably the youngest blogger at most fashion events, we can imagine that she's been on the receiving end of a few too many. So she was the perfect person to school Jimmy Fallon in the art that is the "bitchface" during her appearance on his show last night.
The 16-year-old Rookie Mag founder sat down with Jimmy to discuss the launch of Rookie Yearbook One, her first print book that combines the efforts of 50 writers, photographers and illustrators. The part of the the book that intrigued the "Late Night" host the most? The section in which Tavi explains the intricacies of the "bitchface." She specifies to Jimmy that it's a way to "express your passive aggression" and that she happens to suffer from involuntary "chronic bitchface."
What follows is a pretty adorable how-to session. But don't think Tavi thinks she has nothing left to learn. When Jimmy asks her where she grew up, she laughs and says, "I'm still growing up." And that, dear readers, is how you stay grounded in an industry full of bitchfaces.
Check out Tavi Gevinson's style!
Want more? Be sure to check out HuffPost Style on Twitter, Facebook, Tumblr and Pinterest.