Most everyone has heard of the mysteriously ghoulish "things that go bump in the night." For one South Carolina woman, that "thing" was her ex-boyfriend, who she found living in her attic more than 12 years after they had broken up.
Tracy [last name withheld], a Rock Hill, S.C., resident and single mother of five, says she heard a thump from up above and saw nails start popping out from her bedroom ceiling Saturday, Yahoo! News reported.
Around 2:30 a.m. Tracy felt as if "something just ain't right," she told the Charlotte Observer. When she heard noises in the attic and saw nails popping out, she thought "there was some poltergeist stuff going on."
It wasn't the devil dancing on the ceiling. It was her ex-boyfriend, who had been living in her attic for about two weeks since he was released from prison, according to WCNC.
The two had broken up more than 12 years ago. She never considered getting back with him, despite him claiming in letters he sent from jail that he had changed. She thought he had gone to Charlotte after his latest arrest.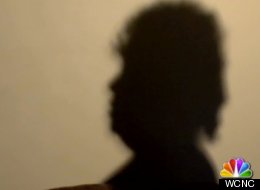 Her adult sons and her nephew found him asleep in the back of the attic. "They found a man. He had packed all the old coats and jackets into the heating unit and was sleeping in the heating unit," Tracy told WCNC, saying that her ex-boyfriend ran downstairs and out of the house before police got there.
They found several "Route 44" Sonic cups filled with feces and urine, according to Local 8. They also saw that the ex-boyfriend had rigged the ceiling vents so he could look down at Tracy in her bedroom from his spot in the attic.
The only access to the attic is through a door from inside the home, in the hallway that connects her children's bedrooms, according to Local 8.
"It's got me flabbergasted," Tracy told the Charlotte Observer. "How can you look at someone through an air vent?"
The suspect is still at large. He is described as a black male, 5 feet 6 inches tall and weighing 170 pounds.
CORRECTION: A previous version of this article stated that the woman whose ex was found living in her attic is a resident of Rock Hill, N.C. Despite alternate media reports, Rock Hill is on the border of North Carolina and South Carolina, and is located in the state of South Carolina. A correction has been made.
Loading Slideshow
John Jardini, 26, of Pittsburgh allegedly robbed a woman for $60 -- and then asked her out on a date by cell phone. The "love" story gets worse. Read more <a href="http://www.huffingtonpost.com/2012/03/06/robber-called-victim-for-date_n_1324449.html?ref=weird-news&ir=Weird News" target="_hplink">here.</a>

Mark Anthony Richardson Jr.

Mark Anthony Richardson Jr. wore diapers and faked being autistic to get women to babysit him. He was sentenced to three years in prison in July 2011 for groping an 18-year-old daughter of one of the conned nannies.

'Vampire' Josephine Smith

Josephine Smith is seen in this booking photo from the Pinellas County Jail. Smith was arrested after allegedly attacking and biting a piece of skin off a homeless man in St. Petersburg after proclaiming "I am a vampire, I am going to eat you".