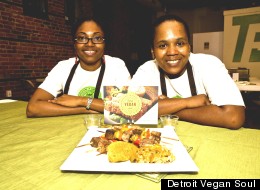 You might think that soul food and vegan dishes exist on opposite sides of the dietary universe. After all, soul food is a traditional African-American cuisine whose staples include chitlins and ham hocks, while vegans refrain completely from eating meat or dairy products.
Apparently, however, the two worlds can coexist. Just ask Kirsten Ussery, who plans to open a business called Detroit Vegan Soul with her partner, Erika Boyd. The two entrepreneurs are semi-finalists in this year's Comerica Hatch Detroit contest, an annual competition which awards $50,000 and support services to one lucky business start-up chosen by a panel after considering input from online voters.
The Huffington Post spoke to Kirsten Ussery, who currently runs the business as a catering service, about the contest, plans to set up shop in Detroit's West Village neighborhood and how she got started making vegan versions of classic soul food recipes.
Where did you come up with the idea for vegan soul cooking? What are a few examples of dishes you'd serve?
We were inspired by some of our vegan soul food restaurants in other states. We started out, for our personal enjoyment, developing and modifying some of our own family recipes, and received great reviews when we shared them with family and friends. So we began planning and developing the concept for a vegan soul food restaurant and shortly after starting the D:hive BUILD class, Detroit Vegan Soul was born.
Another motivation for starting this business is that we want to break the cycle of diet-related diseases in our families and help others to do so in their families. In the café, we'll serve many of the same dishes we currently serve in our meal delivery and catering business like Mac –n-cheez, Okra Stew, Bar-b-que Tofu, "Catfish" Tofu, Smothered Tempeh, Kale Salad, Smoked Collard Greens, Seitan Pepper steak, Sweet Potato Pie, and Peach Cobbler. But, we'll also serve fresh juices, smoothies, sandwiches, etc. All of our ingredients are plant-based, organic, and free of preservatives, additives, refined flours, sugars, dairy, eggs and animal by-products. In support of a sustainable earth, we use bio-degradable packaging.
Are you targeting a primarily vegan or vegetarian clientele? If not, how can your business model attract a wider clientele?
We are targeting anyone who wants delicious soul food that's also nutritious. Many people who currently order meals from our meal delivery service are not vegetarian or vegan. They simply love our food. We're also getting a lot of support from vegetarians and vegans who are happy to have another option, one that is completely different from anything else available to them. We are the only 100 percent cooked vegan soul food business in Michigan. We believe our concept appeals and attracts everyone, whether vegetarian, vegan, or neither.
Can you open the business without winning Hatch? How would winning the contest change your business model?
If we do not win Hatch, it may take us a little longer to open but we are determined to open. There's a large demand for us. We've had so many people from all over Michigan, and even outside of Michigan contact us to say they can't wait until we open. People who live in other states have said they can't wait to order food from us when they're in town and visit our café when it's open.
Tell me why you decided to leave public relations to open and bake for a vegan soul cafe. Why is Erika a complementary partner for you? How would you divide your business roles?

I am still employed part-time and in addition, I do PR consulting for a couple of clients. Erika runs her own natural hair care salon. We will run Detroit Vegan Soul full-time once we open our café. As far as being business partners, we really complement each other. Where I may be weak in an area, she's strong, and vice versa. We both contribute equally and make decisions together. Erika is the chef and I prepare all of our baked goods. I handle Marketing and PR, while Erika handles the creative direction for our business . We both make decisions on financial and legal matters. Our mission is to help people live healthier lives by providing great-tasting, high-quality, nutritious vegan food that appeals to all taste buds, while at the same time doing our part to support a sustainable earth.
Tell me about the building you want to open on Agnes. Why West Village? Do you think the neighborhood would and can support a sit-down restaurant?
Our ideal location is a former bake shop and is a little over 1,000 square feet. It has the major components already installed that we will need for our business. Since our business plan is to start small, it is the perfect amount of space for us. The neighborhood will definitely support this type of business. Historically, the area was well known for its restaurants. The historic Harlequin Café was located on Agnes and closed, not because of lack of support from the community, but because of the owner's personal problems. Up to the day the restaurant closed, it was drawing sizable groups of people from the neighborhood and all over Detroit.
Similarly, we believe that our restaurant will be so interesting, different, and special that people will travel just to eat. We've heard from neighbors, both vegan and non-vegan that they are excited about the possibility of us opening up on Agnes. Our assumptions are not just based on anecdotes: market data from the DEGC for West Village show that the average income, age, and diversity of the neighborhood will support our business. There is a demand in the community for a business residents can walk to for coffee, tea, and delicious food that appeals to anyone, whether they are vegetarian, vegan, or neither, because most people enjoy comfort food. We will fill that void.
You've talked about how West Village could become a more thriving district. What would you and Erika
do to help attract more businesses to West Village?
It only takes one business to locate in a district and be successful to convince others to take a chance. We've seen evidence of how a business can locate in a desolate area and completely turn it around, i.e. Slows and Avalon Bakery. We will do everything we can to help other business who want to locate the district. We'll welcome them, direct them to resources, and open the door for joint marketing efforts.

Check out this slideshow of all 10 Hatch Detroit 2012 semifinalists. Vote for Detroit Vegan Soul here.
Hatch Detroit 2012 Semifinalists
They Submitted. They Rocked. They Conquered. Hatch Detroit named 10 semifinalist entrepreneurs who will compete for the hearts and minds of Detroiters this fall. The winner will take home $50,000 and the support to build the business of their dreams. Find out a little more about the 2012 Hatch Detroit class through the slideshow, featuring quotes from their business proposals. Vote for your favorite Hatch Detroit contestant every day, and make sure to explore every budding Detroit entrepreneur through our Hatch Q&As.

"Tashmoo Biergarten is a European style outdoor beer garden that opened in the fall of 2011 as five sequential pop-up events in the West Village neighborhood of Detroit, MI. The next phase of Tashmoo Biergarten is to purchase property with enough space for the beer garden and a building to house a tasting room and the necessary facilities."

"Whip Hand Cosmetics offers luxury, artisan, professional makeup artist quality cosmetics made in Detroit With Attitude. The brand's products include more than 100 color cosmetics for the eyes, lips and cheeks, as well as a line of skin care and prep products. Whip Hand Cosmetics: The Art of Control."

"La Feria will be a small authentic Spanish Tapas restaurant in the style of those commonly seen in the south of Spain. The food and menu will follow the Tapas tradition of a number of plates that are small portions of various Spanish dishes, accompanied by wine or beer. "

"Our mission is to create a whole new dynamic on the Detroit River, built around sports and recreation activity. Detroit River Sports will be a hub for all human or nature-powered, sports on the River. By offering rentals, lessons, tours, and retail we will provide amenity to those already familiar with the pleasures of waterfront recreation, and expose the uninitiated, creating new River enthusiasts within the city. By providing new ways to experience the City and its River, interest in the Detroit Riverfront as a whole will grow."

"Detroit Vegan Soul is a newly created meal delivery & catering company that with the help of Hatch Detroit will open a café in one of Detroit's historic neighborhoods. We want good, healthy food to be accessible to everyone. Our mission is to help people live healthier lives by providing great-tasting, high-quality, nutritious vegan food that appeals to everyone, while at the same time doing our part to support a sustainable earth."

"Vividbraille fuses high end fashion and design with USA manufacturing in a retail setting. The studio boutique offers its customers some of the finest Made in the USA high fashion goods while also allowing its customers to experience the creative process leading up to the completion of any given collection or item of clothing."

"We would like to open a 50-seat Pho House in Midtown, Detroit, to bring the first Vietnamese restaurant to the people. Eating at Da Nang is much more than a dining experience. We treat our customers to authentic Vietnamese cuisine, of course, but we are careful about the setting. We want to share the beauty of Vietnam and its people through our menu, our décor, our staff – basically every touch point."

"Motor City Design Co. store is a custom denim specialty retail store featuring all made in Michigan products as well as products made directly in the store. People will be able to shop in the store and see seamstresses sewing and making garments behind large glass walls. The store will be the first of it's kind in Detroit -- or in the world, for that matter. "

"Rock City Pie products are NOT like your grandma's pies. They are as unique and pure and as unexpected as the people who make-up the Detroit urban "hipster" scene, with flavors and sensations unlike anything else. Bizarrely original, they are totally fresh with locally-sourced ingredients and are even a little bad ass…..and DAMN they are good."

"The Collective Tap is a community focused beer retailer promoting and cultivating a respect for beer in Detroit. We specialize in the education and selling of Midwestern craft beers, while also selling brews from the US, UK and Belgium. Our goal is to make high‐ quality beer approachable, from the first time craft beer drinker to the seasoned home brewer."