If you're as fond of chicken nuggets as Honey Boo Boo is, then you probably want every meal to be reminiscent of these deep-fried morsels. And with all the types of foods you can find coming out of the fryer at state fairs, this is not such a difficult feat. But never before have we seen something that so closely resembled chicken nuggets as this deep-fried cupcake recipe brought to us by the food blog Cupcake Project.
The resemblance of these cupcakes to chicken nuggets is uncanny. To make them, you take an already baked cupcake, cut it into the iconic odd nugget shape, batter them and deep fry. You can even make a faux barbecue sauce to accompany them (the Cupcake Project made one out of fruit preserves).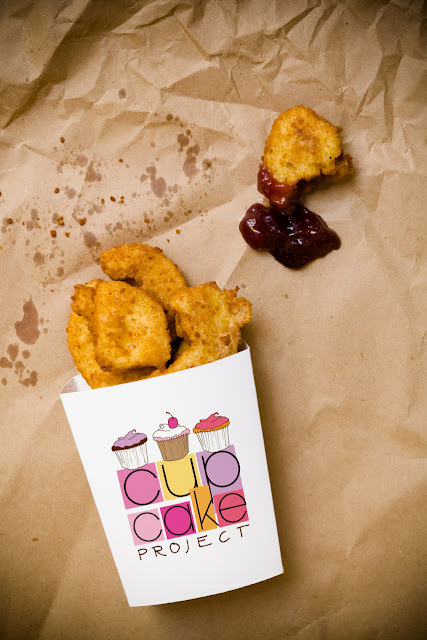 Photo by J. Pollack Photography.
Here are some cupcake recipes for you to throw in the deep-fryer.
Get the Blackberry Cupcakes recipe by Call me Cupcake While these cupcakes look awfully fancy, they're made with a simple blackberry batter, vanilla buttercream and a drizzle of freshly made blackberry syrup. They're simple and delicious.

Get the Nutella Cupcakes recipe by My Baking Addiction Not only are these cupcakes made with Nutella, but they're also topped with a piece of hazelnut chocolate.

Get the Blood Orange Cupcakes recipe by Cafe Johnsonia Blood oranges have a unique flavor that comes across beautifully in cupcake form. The zest is used to flavor both the batter and the frosting.

Get the S'mores Cupcakes recipe by Pastry Affair If you're a fan of s'mores, you're going to love this cupcake. Not only is it gorgeous, but it captures the flavors just right.

Get the Buttered Rum Cupcakes recipe by Adventures in Cooking The whimsical decoration of this cupcake is like nothing we've seen before; and the batter is buttered rum flavor. It doesn't get much better than this.

Get the Chocolate Cupcakes with Cherry Mascarpone Frosting recipe by The Little Red House We wish we would see mascarpone used as frosting on cupcakes more often -- it just makes sense.

Get the Salted Caramel Cupcakes recipe by Pass The Sushi We love salted caramel everything -- and we definitely love it when that flavor translates into a cupcake.

Get the Chocolate Ganache Cupcakes recipe by Faux Martha A chocolate cupcake filled with ganache and topped with Italian meringue buttercream, these cupcakes are hard to beat.

Get the Banana Cupcakes with Cinnamon Cream Cheese Buttercream recipe by Your Cup of Cake Banana bread is delicious, but these cupcakes boast the same flavors with the addition of buttercream frosting.

Get the Vanilla Cupcakes with Vanilla Buttercream recipe by Jenny Steffens Hobick No matter how many flavors of cupcakes we try, there will never be anything that can quite top a classic vanilla buttercream cupcake.

Get the Brownie Batter Chocolate Fudge Cupcakes recipe by Kevin and Amanda If you're a chocolate lover, look no further for a rich chocolatey cupcake recipe.