An image floating around the Internet got a lot of attention this morning -- and had many considering hitting the gym.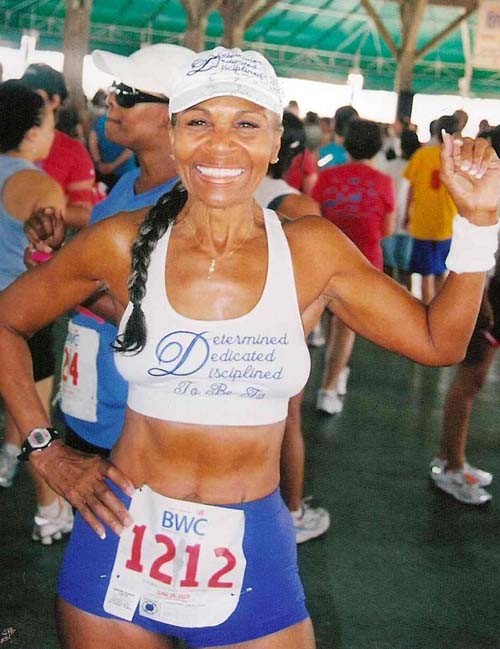 "Ernestine Shepherd, age 75," Reddit commenter Proteon posted, "wakes up at 3 a.m. every day to meditate, and then clocks up runs totaling 10 mi (16 km) before lunch. In 2010 and 2011 she was recognized by Guiness as [the] oldest competitive female bodybuilder in the world."
"I bet she's going to hold the world record for oldest woman in the world in a few years," said user naomaniac.
"She is a great inspiration to not get all nasty and lazy with age," commented Reddit user Death_To_Your_Family. "She's awesome!"
The photo has been viewed more than 100,000 times and racked up a number of colorful comments on Reddit, but we here at The Huffington Post are no stranger to Ernestine Shepherd's feats.
She, along with 11 other post 50s, was honored for having one of the Most Beautiful Minds in America earlier this year by the National Center for Creative Aging and supplement maker life'sDHA™. HuffPost Weird News interviewed the Baltimore stunner at a 2011 Musclemania event as she flexed for the crowd and basked in the glow of maintaining her oldest competitive female body builder title for the 2012 Guinness Book of World Records.
But she wasn't always the ripped woman we see today. Shepherd took control of her body more than 20 years ago after experiencing a situation many women can relate to.
"I was getting ready for a picnic with my sister Mildred, and we were trying on swimsuits," she told HuffPost Weird News. "And we were not happy. So we did something about it."
Since she's made that decision, there doesn't seem to be anything holding her back.
"I plan to keep doing bodybuilding shows," the World Record holder said. "There's no reason you can't be 80, and strutting your stuff."
We couldn't agree more.
Earlier on Huff/Post50:
Loading Slideshow
Alvin H. Reiss, 81, New York, NY

Over the years I've written books, humor, magazine articles and columns, had several musicals produced, taught college courses and lectured around the world. I've never lost my missionary zeal for turning others on to creative involvement. I love life. Take my WORD for it.

Alvin H. Reiss

Words keep me young. As an accomplished journalist, songwriter, editor and author, I listen carefully to spoken words and play with words in numerous ways -- writing words, punning words, inventing word games, writing song lyrics and much more. As a word person, I love libraries and recently joined the board of the Westchester Library System. Professionally I use words as editor of Arts Management, which I co-founded nearly 50 years ago, as a magazine and theater writer. I entered a new phase of my creative life when I completed a full-length musical about life in an over-55 community. I take exercise classes and also belong to a Hikers and Walkers club. Thanks to my wife I eat a wholesome diet and keep my weight steady.

Arthur S. Berger, 91, Aventura, Florida

I use the power of mind to slow the aging process. I wrote five books between ages 67 and 75, was elected to office at 76, founded a project matching school kids with older people at 80, and wrote and acted in a play at 86. Now I advocate for others as Ombudsman for the State of Florida Department of Elder Affairs.

Arthur S. Berger

One of the most beautiful things a mind can do is to remove the age barrier that stops older people from continuing to do beautiful things. I feel and behave as I did years before, think and believe that I am younger, and deny not my age, but that I am old. I am living proof that the power of mind exists. The use of mind power to reverse my aging process has a significant, positive impact on my mental health.

Benjamin Nickson, 86, Washington, D.C.

I exhibit the four dimensions of brain health. Diet: I maintain my weight and take vitamins. Physical: I exercise several times a week, practice yoga and take jazz dance classes. Social: I go to the spa and attend the theater. Mental engagement: I study Russian, play the cornet and take music lessons.

Benjamin Nickson

I count calories and take supplements daily. I use a treadmill, a sitting elliptical machine, lift 5-pound weights, and do chair Tai Chi. I go to the sauna with friends for relaxation monthly. I enjoy going to the Kennedy Center, and the Quotidian and Arena Stage theaters. I read the newspaper to dissect world and economic news. I'm learning to play jazz and standards. I saw jazz musician Wynton Marsalis backstage, and he asked me to play my cornet with him in 2012. I'm practicing hard for that now.

Delores Porch, 61, Gresham, Oregon

After surviving an accident, I now have a healthy body and partake in lifelong learning, volunteering and spiritual growth. I've been vegetarian for 20 years. I hike or walk, sometimes more than 10 miles a week. I applied for college again. Age doesn't define the limits of how I live.

Delores Porch

Like millions without health insurance, I do everything I can to take care of my body. I'm a trail leader for Friends of Columbia Gorge, taking people to spectacular sights and discussing history, geology and botany. I decided to go back to college a third time and study respiratory care at Mt. Hood Community College. I find I can still compete with younger minds. I also take religion classes to feed my spiritual side. Recently I began walking a friend's dog, Rocket. It's nice to have a companion who's enthusiastic, but lets you be the follower sometimes.

Ernestine Shepherd, 75, Baltimore, Maryland

I transformed myself from an average middle-aged woman with a sedentary lifestyle, into the World's Oldest Performing Female Bodybuilder by Guinness World Records. I became a personal trainer, professional model and competitive bodybuilder. I'm happier and more fulfilled than at any other time in my life.

Ernestine Shepherd

At 56 I started aerobics to lose a few pounds. My teacher introduced me to a former Mr. Universe who got me into weight training. I worked out two hours each day before going to my job as a school secretary. I won my first bodybuilding contest in 2008. Now I'm a motivational speaker for seniors' groups, church groups, conventions and workshops, talking about how a bad trip to find a new swimsuit turned my life around. I want seniors to know it's never too late to be fit in life. My advice is to be determined, dedicated and disciplined. Do cardio and weight training. But first and foremost, be positive and filled with spirit.

John Guider, 62, Nashville, Tennessee

A professional photographer, adventurer, boater and author, I've traveled 5,500 miles of America's waterways, including the entire Mississippi, in small motorless boats. I've changed physically and mentally. My asthma is in remission, and my arthritis and chronic bronchitis have gone away. The best of my art is still ahead.

John Guider

I built a boat and have been traveling a route known as the Great Loop, a course down the Mississippi, around the Gulf and East Coasts, into the Hudson, the Great Lakes and back to the Mississippi. I go out two months every year and row upwards of 12 hours a day in all types of weather. The experience has been so amazing, my photos only tell a portion of the story. So I've continued on as a writer as well. Now, at 62, I have everything to look forward to.

Dr. Mary Turner Maher, 83, Mendota Heights, Minnesota

Despite debilitating arthritis, three joint replacements and a reconstructed foot, I keep my mind, body and spirit strong through hard work, exercise, nutrition and education. I earned my Ph.D. after raising five children and battling colon cancer. My professional career included working as a school psychologist, director of special education and assistant superintendent. After retirement, I continued to work with low income and culturally diverse urban charter schools as a psychologist. Now I tutor low-income children with reading difficulties.

Dr. Mary Turner Maher

I've survived cancer, declared war on osteoarthritis and follow a regimen that includes walking, golfing, biking, swimming and horseback riding. I began playing the violin at 80, and I still take lessons and practice daily.

Alice And Richard Matzkin, 71 And 68, Ojai, California

Alice is a painter and Richard is a sculptor. In late middle age, after raising kids and pursuing a career, our creative fires were rekindled. We've amassed a body of work that we hope will tour museums around the country. We're busier, more engaged and inspired than at any other time of our lives.

Alice and Richard Matzkin

We believe an essential element of a beautiful mind is creativity. We keep our minds beautiful by creating our art. Responding to our fears and curiosity about growing old, we began several series of artworks exploring aging. Our creativity kept evolving and we found ourselves writing a dual award-winning book, The Art of Aging: Celebrating the Authentic Aging Self. When working in our studio, we are ageless and free. There is no time, no worry. Just the joy of playing in the present moment.

Melody MacDuffee, 59, Mobile, Alabama

I was raised with a strong service ethic, but didn't find my niche until, at 55, I traveled to Ghana, where I taught West Africans to make jewelry out of their traditional beads. Afterward, to try to help alleviate poverty there, I founded Soul of Somanya, an organization offering training and employment at a living wage to the area's disadvantaged youth.

Melody MacDuffee

I've loved every minute of teaching in the rainforest under the trees, living as they live, with no running water, no vehicle, intermittent electricity, and limited phone and Internet. Now I'm also teaching myself a wide range of skills on the run -- marketing, PR, accounting, trans-Atlantic shipping, volunteer coordination -- everything needed to run a small nonprofit. My brain is getting the most exercise it's had since grad school. My spirit is being fed in a whole new way. For the first time in my life, I'm doing something significant and ongoing for others. I've found my niche.

Sue Kelley, 72, Olmsted Township, Ohio

I believe you do not grow old; you become old by not growing. That's why I volunteer for several charitable causes; eat a healthy diet and exercise regularly; maintain strong friendships with young and old alike; engage in intellectual activities; and recognize the importance of nurturing my spiritual self.

Sue Kelley

I volunteer for Meals on Wheels, Habitat for Humanity and my church. I'm a "grandma" to almost 30 children I know through friends and family. I still maintain friendships from nursing school. I eat healthy foods and take supplements. I'm passionate about bike riding, and I cross-country ski and swim, too. I love music and belong to two choirs. I practice yoga, Tai Chi and meditation. I challenge myself to do things that may be uncomfortable, such as driving to a new location. A beautiful mind continues to grow with learning and good care.