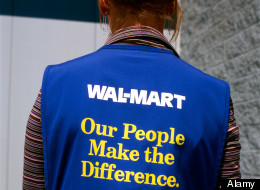 Two Walmart employees are in hot water after they allegedly destroyed two $100 bills when a customer tried to pay with them.
According to Court House News, Julia Garcia is suing Walmart Stores after the "humiliating ordeal" she endured at the hands of two employees who accused her of using counterfeit currency at a San Antonio, Texas, location.
Garcia says she was Christmas shopping with her children at a [Walmart] in San Antonio in December 2010 and entered a checkout lane around 2 a.m. Garcia says she paid for her $150 purchase with a $100 bill, a $50 bill and change.

"The cashier inspected the $100 bill, turned to another cashier and had a brief discussion, and returned to her register telling the plaintiff her money was 'fake,'" the complaint states. "The cashier proceeded to rip the $100 bill in half without performing any counterfeit detection tests. The metallic strip in the $100 bill was clearly visible."
(To see the complaint, go to Court House News)
Garcia claims that a manager named Russell was then called over. Russell allegedly told her that the money was counterfeit and that she would have to wait for the police.
According to the complaint, Garcia then pulled out another $100 bill that she had in her possession. She alleges that Russell took the second bill from her and ripped it in half as well, saying that it, too, was counterfeit.
Garcia claims that Walmart made her wait at the front of the store, "in plain sight of all passing customers," until police arrived. She said she was publicly humiliated by the store's employees who told other shoppers that she had been trying to use fake currency.
Finally, two police officers arrived at the store. Upon checking the torn notes, they determined that both were legal tender.
Garcia is reportedly seeking "punitive damages for false imprisonment and intentional infliction of emotional distress."
After a user on the social news site Reddit posted Garcia's story online, readers responded with anger -- and plenty of bewilderment.
"For the record, there was zero reason for them to tear up the bill, even if it was counterfeit. There is no policy in place telling anyone to do this with counterfeit bills, and in fact, because the bills have to be turned over to investigators, the tearing up of the bill would count as destroying evidence. Just wanted to point that out. If the employees actually did what the report says they did, then they were idiots on top of being asshats," said user "this_isnt_happening."
This is not the first time that Walmart has been involved in a contentious face-off with potential customers.
Just this month, a Walmart in Florida came under fire after it complained to police of a "flash mob situation" after a school choir sang "God Bless America" in memory of the Sept. 11 attacks.
For more incidents involving Walmart, click through this slideshow:
Nightmares That Involve Walmart
A Walmart in Florida complained to police of a "flash mob situation" after a school choir sang "God Bless America" in memorial of the Septemeber 11th, 2001 attacks, the Sun-Sentinel reports.

Julian R. Call, 22, and Tina F. Gianakon, 35, were arrested for engaging in sexual activity in front of fellow shoppers at a Kansas Walmart after stealing K-Y Jelly.

Netherlands' biggest pension fund -- it holds over $300 billion in assets -- pulled its investments from Walmart for not abiding with the United Nations' Global Compact principles, which relate to human rights, labor standards, the environment and anti-corruption efforts.

When Walmart senior executives found out that Walmart de Mexico had allegedly been involved in a bribery campaign to open new stores, they then allegedly covered it up.

A Mormon assistant manager at Walmart, who had been observing the Sabbath as an employee for more than ten years, faced disciplinary action after a change in their scheduling rules no longer accommodated his observance.

Jose Marcos Picazo suspiciously died after Walmart security guards in California arrested him for alleged shoplifting.

Walmart was involved in a lobbying campaign to weaken the Foreign Corrupt Practices Act, which was meant to reduce liability for bribing foreign officials.

Walmart has been involved in a number of ongoing lawsuits for discrimination against female employees. Some of the allegations have included derogatory language at the workplace, unfair promotion practices and pay discrimination.

A woman wanted cheap Black Friday deals on Walmart electronics so badly that she used pepper spray on a crowd at a Los Angeles Walmart. Twenty people were injured.

Warehouse workers in California sued a contractor that works with Walmart for labor law violations, including poor labor conditions, shortchanging pay and threatening to fire them for complaining about anything.

New York City public advocate Bill de Blasio recently launched 6degreesofwalmart.com to expose Walmart secret political spending, meant to influence the political process in a number of ways, including reducing protection for workers, whistleblowers and the environment.

A Walmart employee at a distribution center in Virginia shot and wounded his female supervisor right before he killed himself.