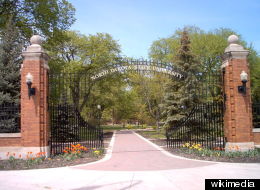 North Dakota State University has ordered an evacuation of its campus following a bomb threat, NBC News reports.
All employees and students at the Fargo university were ordered off campus in a security alert posted at 9:49 a.m., central time:
"NDSU is requiring all employees and students to leave campus by 10:15, including residence halls, downtown buildings and agricultural facilities. NDSU received a bomb threat, prompting this evacuation. Updates will follow. Do not call local emergency numbers to permit emergency lines to remain open for emergency calls."
The Forum of Fargo-Moorhead reports that two other bomb threats were reported this week in the region, closing Hector International Airport in Fargo. The other was reported at the Grand Forks airport.
This morning, a bomb threat was also reported at the University of Texas, Austin.
UT Austin's public affairs department released a statement at 9:45 a.m. local time, which said that it had "received a call from a male with a Middle Eastern accent claiming to have placed bombs all over campus." According to the statement, the caller claimed affiliation with Al Qaeda and said that the bombs would "go off in 90 minutes."
From NDSU:
NDSU campus police have reopened campus as of 1 p.m. Classes and full operation will resume at 2 p.m. Over the next hour, university police will be unlocking buildings. As always, students, faculty and staff may choose not to return if travel is a concern.