Mr. Romney's pre-existing political calculation seems to be that he can win the election without having to explain the economic moment or even his own policies. As this flap shows, such vagueness carries its own political risks.
The strategy that Romney has been following all year depends on a lack of specificity. His campaign long ago decided that their best bet would be to position Romney as a generic protest vehicle, someone sufficiently inoffensive and competent-seeming to attract economically anxious swing voters who want to kick President Obama out.

Thus does Romney mainly speak in broad generalities about the leadership he'd provide as president and the outcomes he envisions (More jobs! Better healthcare!) while avoiding details as much as possible. This pattern even continued after he teamed up with Ryan, who now insists he's running on "the Romney plan," and not the much more specific budget blueprint he himself crafted earlier this year.
"There is a missing case, and I watched Romney yesterday, I watched Romney yesterday, I swear to God, there is no urgency to this man. He is running, as I said this morning, bored," Caddell observed.

"And the fact of the matter is, we're heading for a major crisis. You see it coming. 'Here are the three or four things that I'm going to do; we must make a change.' He has no message other than 'I'd like to win and by the way I have a secret formula.' He may still win with his, but not if Obama's at 50% approval," he added.

"Their strategists from the beginning have decided -- I just, you know, can't say enough bad things about them. They are incompetent, that believe that you can sit and the election will automatically come to you. And that they don't respond. They never sold Romney with the message that we talked about for months, and I'm sorry to the audience out there. It's not the American people are stupid, your candidate is stupid," Caddell said. "They never gave his message of who he is."
Romney's plan isn't like that. It's not unclear, it's ambiguous. Enacting the rate cuts he wants and then fully making up the revenue would entail a large middle class tax hike. Enacting the rate cuts he wants and avoiding a large middle class tax hike would blow up the deficit. Those are pretty different policies and it's impossible to tell from the campaign thus far which one Romney is saying we should expect from him. Are we getting the Bush-style closet Keynesian, or will the new austerity fad continue on the right?
A considerable portion of the electorate hates and distrusts Muslims, a considerable portion of the electorate thinks Obama secretly adheres to or is at least suspiciously "sympathetic" to Islam, and headlines and images of extremists attacking Americans abroad make for a perfect opportunity to capitalize on those feelings. A nuanced, accurate and fair criticism of the Obama administration would've appealed to, well, the sort of people to whom nuanced, accurate and fair criticisms usually appeal: liberals.

Romney clearly went too far, and the fact that his campaign apparently has no idea where the line is when it comes to how much they can "get away with" before the press starts calling them disgusting should still worry Republicans (there was a way to get this "Obama is weak" point across without blatantly lying and explicitly accusing Obama of sympathizing with killers!), but an attack on Americans by irate anti-American Muslims abroad is the sort of thing that will make certain voters more, shall we say, sympathetic to the candidate who is more shameless about hating Muslims. Romney understands this and is willing to capitalize on it.
[W]ithout any dramatic trend the resulting balance of economic indicators is favorable for Obama, though not strongly so. This is, in part, why the forecasting model that Lynn Vavreck, Seth Hill, and I helped develop for Wonkblog, suggested Obama would win. Lynn and I reach the same conclusion with an elaborated forecasting exercise in "The Hand You're Dealt." This is, in part, why forecasts that build in economic indicators -- as at 538 and Votamatic -- suggest the same. And yet people still think Obama should be losing because of the economy. That is simply not the case. The state of the economy does not guarantee him victory but neither does it presage defeat.
At least three Republican electors say they may not support their party's presidential ticket when the Electoral College meets in December to formally elect the new president, escalating tensions within the GOP and adding a fresh layer of intrigue to the final weeks of the White House race.

The electors -- all are supporters of former GOP presidential candidate Ron Paul -- told The Associated Press they are exploring options should Mitt Romney win their states. They expressed frustration at how Republican leaders have worked to suppress Paul's conservative movement and his legion of loyal supporters.
Virgil is a misguided soul who has stumbled into Mitt Romney's path. The former congressman from Virginia's Fifth Congressional District isn't particularly well-known for anything except being a fist-shaker and habitual party-switcher. Anyway, whatever votes he gets will come right out of Romney's coalition. And if Virgil Goode secures between 3 and 4 percent in his old congressional district, he could get more than 1 percent of the vote statewide, enough to make the difference in this election.

Somebody called him "Romney's Ralph Nader," and that could be the case. If you're an ultraconservative Virginia voter, and you can't vote for Obama or a Mormon, then you might vote for Goode.
His Old Dominion charm is a break from a national race that can often seem impersonal. Goode remembers where his former constituents' kids go to school, when their siblings moved to a nearby county, and how their family businesses have fared for the past two or three generations. He opens all his own doors -- and all doors for his staffers -- and makes sure that women enter first. He attends Pleasant Hill Methodist Church (though he's Baptist) and spends his days on the trail at chicken festivals and gun shoots. To top it off, he narrowly missed giving a speech at a memorial dedication because he stopped en route to save a beagle who was hit by a truck -- he even paid a passerby to drive the dog to the vet before he continued on his way.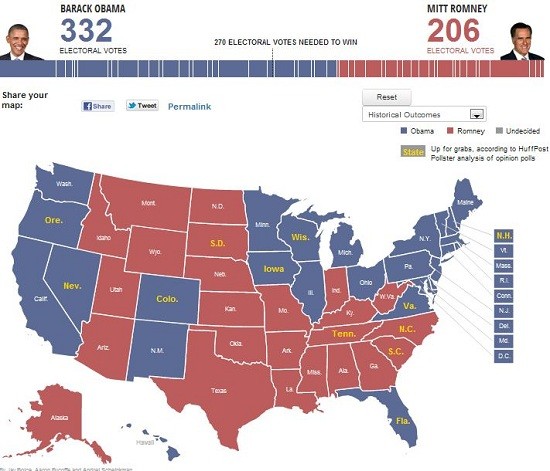 SUBSCRIBE TO & FOLLOW TRUMP'S FIRST 100 DAYS
How will Donald Trump's first 100 days impact YOU? Subscribe, choose the community that you most identify with or want to learn more about and we'll send you the news that matters most once a week throughout Trump's first 100 days in office. Learn more