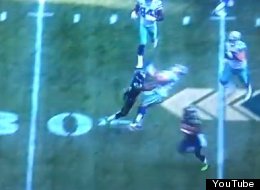 Golden Tate might hear from NFL Commissioner Roger Goodell at some point this week after delivering a devastating, and illegal, hit to Cowboys linebacker Sean Lee during Seattle's 27-7 win.
In the middle of the fourth quarter, Seahawks quarterback Russell Wilson found wide open space to his left and took off running from his inside his own 20-yard line. As Wilson made his way out past the 25, Lee came closing in on him. But before Lee could bring down Wilson, Tate blindsided Lee with a huge block to the chest, sending Lee airborne.
A replacement official threw a late flag, but it went against Dallas for a late hit on Wilson. Former NFL Vice President of Officiating Mike Pereira tweeted after the hit that Tate should have been penalized for an illegal block.
@MikePereira

Mike Pereira
The hit on Lee is an illegal blindside block. Lee is considered defenseless, which means you can't lower your head & hit in head/neck area.
Both Pereira and Cowboys owner Jerry Jones later said they believe Tate will be fined for the hit.
"I'm sure they will," Jones said, via Calvin Watkins of ESPNDallas.com. "We saw the same thing you saw. That's certainly something we know or expect penalties and fines about. They didn't see the helmet hit or they would have called it."
The no-call on the hit was one of many Week 2 blunders from the replacement referees. But blown calls might not be the main focus the next time the league and officials' union meet at the negotiating table. Some might point to the hit to show that replacement refs are a danger to the players' health, a notion that Bryan Burwell of the Detroit Free Press brought up during the preseason.
@joe_sheehan

Joe Sheehan
At the next negotiating session they should just show the DPI against the Steelers and the Golden Tate hit on a loop until Goodell cracks.
@MikePereira

Mike Pereira