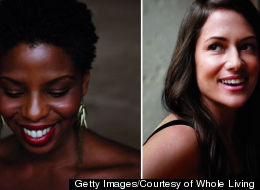 We eat our veggies and pack in a morning workout, but all of us -- all of us -- have at least one bad health behavior. For yoga guru Elena Brower, it was the secret smoking habit that didn't fit her healthy living vocation. Meanwhile, Kristen Gillibrand, an avid racket sports enthusiast, found herself packing on the pounds while raising two young children.
How did these women turn their behavior around? Hard won wellness lessons that they shared with Whole Living as part of a feature in the current issue on changing our worst health habits. So whether you're smoke or simply don't drink enough water, eat enough fresh produce or move around as much as you should, the key is to listen to yourself -- and maybe some of those who've been there before.
Here, some healthy, strong women in their own words:
Wellness Advice From Strong Women
Gillibrand grew so busy with her career and young family, she had to rediscover her fitness regime, and in the process returned to a healthy weight. "I don't frame it as 'losing weight'; I would say, 'focusing on my health.' It gives you much more energy. You feel better about yourself and have a more positive outlook. When you take time to exercise every day, it refreshes you."

Saro-Wiwa cut her hair off as part of an art performance and never went back to processing it. "We're realizing that what we have naturally is acceptable. Suddenly I feel like me, and it feels very good."

Kamali eschewed the hard-partying ways of the fashion crowd and became a vegetarian before it was trendy. "I tried lots of different things, like macrobiotic diets and juice-fasting, to see what worked."

David struggled with addiction and sought a community to help her through. "I was grateful to see people who smiled and said, 'I'm so glad you're here!' ... Nobody had been happy to see me in a long time."

Brower kept her mild smoking habit a secret, even as she gained a reputation as a yogi and wellness warrior. She quit after a realization. "It really does kill us, and there really is no point."