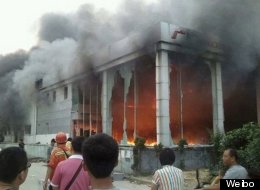 As widespread and sometimes violent anti-Japan demonstrations erupted in China on Saturday and Sunday, photos of the protests caused a stir on the Chinese microblogging site Weibo.
The photos, some containing offensive and violent content, seem to give credence to fears that the anti-Japan sentiment in China is "getting out of hand," NPR notes.
SCROLL FOR PHOTOS
Impassioned protesters took to the streets throughout China in the wake of Japan's decision to buy a string of disputed islands.
The Associated Press reports that Japan's embassies and consulates across the country were besieged; many Japanese stores, factories and restaurants were looted or destroyed; cars made by Japanese manufacturers were burned on the streets.
In Beijing, protests were said to be "mostly peaceful," but even the capital was not spared from "extreme messages," VOA News notes.
"Even if all China becomes a grave, we must kill every Japanese," read a banner carried by a group of protesters marching near the Japanese embassy in Beijing over the weekend, according to VOA News.
Weibo users have also taken to the social media website to question whether or not the protests have gone "too far."
"Let's be reasonable patriots," a Weibo user from Liaoning province wrote, according to VOA. "Not all Japanese people are right wing extremists, patriotic sentiments can spread at times but real patriotism is not expressed by beating Japanese people."
As the anti-Japan protests intensified, Chinese authorities moved to quell heightening tensions on Monday, the Associated Press writes. Some protesters have been arrested, and protest-related content has reportedly been removed from websites.
Relations between China and Japan have long been strained over Japan's military aggression in the 1930s and 1940s, Reuters notes. Tensions have flared in recent months.
Do you think the protests have gone too far? Click through this slideshow to see photographs of the anti-Japan protests and tell us what you think in the comments below:
Anti-Japanese Demonstrations In China
"Demonstrations in Changsha, Hunan"

"Chinese protestors congregate outside the Japanese embassy in Beijing."

"Rioters smash cars, burn buildings"

"A sushi restaurant in Suzhou is demolished by protestors."

"A banner on a store called pattad reads: "pattad firmly defends China's right to the Diaoyu Islands. / We will give a 15% discount to customers who yell THE DIAOYU ISLANDS BELONG TO CHINA! in the store / We will give a 20% discount to customers who yell JAPAN ALSO BELONGS TO CHINA!"

"JAPANESE GUESTS ARE NOT CURRENTLY BEING ACCOMMODATED BY OUR HOTEL"

"A hair salon named "Korean-style Haircuts" hangs a banner that says JAPANESE AND DOGS NOT ALLOWED INSIDE"

"Employees at a [car] dealership hold up a sign that says WE WILL KILL EVERY JAPANESE PERSON EVEN IF IT MEANS DEATHS FOR OUR OWN; EVEN POVERTY WILL NOT DETER US FROM RECLAIMING THE DIAOYU ISLANDS"

"Japanese brand cars are overturned by rioters"

"A Honda owner drove his car to the nearest Honda dealership and set it on fire; banners in the back read DEFEAT THE JAPANESE DEMONS"

"A woman tries to stop rioters from demolishing her Japanese brand car"

"The sign in the foreground reads DEFEND DIAOYU ISLANDS TILL OUR DEATHS and F*CK JAPAN"
For more photos, click through this Imgur slideshow of images.