Naomi Campbell, Lady Gaga and even reality TV star Tamar Braxton have been spotted working the runway during Fashion Week this month in New York City and beyond-- as the festivities continue to make their way to London, Milan and Pairs. And as amazing as these superstar sightings may be, it was the story of one budding model that really got our attention.
Fior Mendez is a 5-foot-10-inch stunner with flawless chocolate-hued skin, who at initial glance can easily invoke feelings of envy and the need to run to the closest gym. Not to mention, she walked the recent Harlem's Fashion Row show like a pro, which is hard to believe since just a few weeks ago Mendez was living in an orphanage in the Dominican Republic.
"I'm overwhelmed emotionally, it's a dream," Mendez told TODAY.com. "I couldn't imagine that a person like me would be doing this in New York City."
Mendez spent most of her life homeless and was 13-years-old when her mother could no longer take care of her and her four other siblings. The decision landed the teenager at the Orfanato Niños de Cristo orphanage. Over the next eight years, Mendez blossomed into a beautiful young lady with aspirations of becoming a supermodel--despite having lost all contact with her biological family. After receiving an invitation from a friend of the orphanage's founder to come live with them in New York City, Mendez finally got her chance to make those dreams a reality.
Now 22-years-old and living in the Big Apple for a matter of weeks, Mendez is already making her mark in the fashion industry. She is signed with Signature Talent Agency and is steady booking major gigs like walking in the HFR show for fashion designer Nzinga Knight.
And beyond her beauty, Mendez is also exhibiting some model behavior--but not the cell phone throwing kind. She hopes to inspire the children back at the orphanage she used to call home.
"I want to be a light for those kids," Mendez said. "I want to show them that if you are dedicated, you can do something, and that even if you're sad, you always have hope."
Check out Mendez walking in the Harlem's Fashion Row show--and celebs who went from homeless to Hollywood in the slideshow below.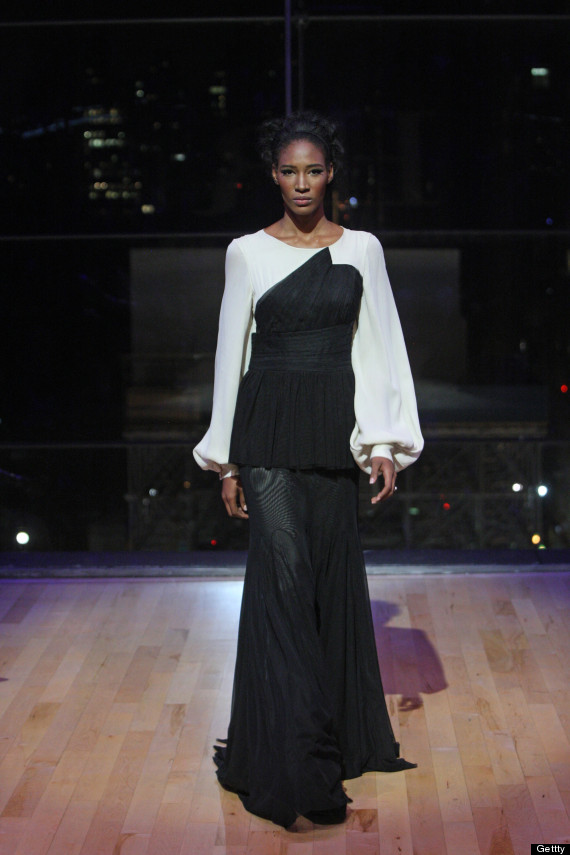 Also on HuffPost:
Loading Slideshow
Halle Berry

Berry, who won an Oscar for her role in <em>Monster's Ball</em>, briefly stayed in a New York City homeless shelter while pursuing her acting career.

David Letterman

After graduating from college, Letterman moved from Indiana to Los Angeles -- and lived in this car to make ends meet.

Hilary Swank

When Swank was 15 years old, she and her mother lived in the car until a friend helped them find a place to stay.

Daniel Craig

Craig, who became a huge star after being tapped to play James Bond, slept on park benches in London before getting his big break.

Tyler Perry

Perry has experienced two periods of homelessness--first after dropping out of high school and again when he was 22 years old while struggling as a theater producer.

In the early '90s Jewel wasliving out of her car while trying to make a name of herself in music.

Jim Carrey

As a Canadian teenager, Carrey and his family slept in a VW van and when he was older, they camped out on his sister's lawn in a tent.

Shania Twain

When she was 13 years old, Twain lived at a homeless shelter in Toronto, Canada with her mother and siblings.

Djimon Hounsou

Hounsou slept in subways, streets and camped near the Eiffel Tower for two years beginning at 13 years old.

Martin Sheen

As a young and struggling actor, Sheen slept in the New York City subway.

Carmen Electra

Electra found fame as a singer and Prince's girlfriend, but lost all her money which forced her to live on the streets of Hollywood.

'Lil Kim

The petite rapper lived in a car with her mother for a time during her childhood in New York City.

Slyvester Stallone

Stallone slept at the Port Authority bus station in New York City for 3 weeks while trying to launch his career.