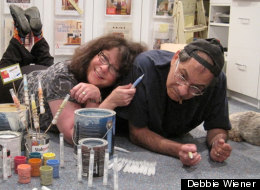 One of the reasons I started my website is that I wanted a place for women to come together and dream. We women need to know that we don't have to hold on to an old dream that has stopped nurturing us -- that there's always time to start a new dream. This week's story is about a woman whose messy family inspired a simple idea that she turned into a thriving business. --Marlo, MarloThomas.com
By Lori Weiss
For some women, two young sons who think the dirt they drag in is part of their wardrobe and a husband who never learned to wipe his feet would be enough to send them packing, but for Debbie Wiener, it was an inspiration.
"I don't know what happened to my husband," she laughed, "he was born and raised on Park Avenue. I think this is his rebellion against society. Even if he walks through dog sh*t, he won't wipe his feet. And he says, at 6' 6" if he bends down to pick up his dirty clothes, he loses oxygen.
"And for the kids, it's monkey see, monkey do."
Her family was determined to challenge her, and she was determined to outsmart them. Debbie began by letting them live in their own filth, just flipping the cushions on the couch when her in-laws came over. But soon she realized the only way she could win, was to replace her beautiful light-colored furniture and design her home in a way that would camouflage the mess. She decided to "slob-proof" her home.
Out went the white couches and beige carpeting and in came brown leather and multi-color rugs.
"And I replaced my drapes with Roman Shades," Debbie said, "after I discovered orange spots on my drapery. My husband Jim would be watching football and he wouldn't want to miss a play, so if he was eating Doritos and his hands were orange, he'd just wipe them on the drapes! I couldn't understand what was happening until I caught him in the act. He wasn't even remorseful!"
"To know him is to love him, but to laugh at him too."
And today, Debbie is laughing all the way to the bank. Because her slobs gave her a million dollar idea, that she thought might just help a few mothers -- but is now flying off the shelves.
"The first point of attack for my boys is the foyer," she explained. "They come in the door and they throw their 35-pound backpacks on the floor, and they kick their shoes off. The shoes go flying, which I think is the point. But by the end of the week, my walls have marks and the white trim is no longer white.
"I was using Wite-Out on my trim and Sharpie markers to cover the stains on my walls. But you could see the touch-ups. The Wite-Out isn't the same shade of white and Sharpies don't come in all the colors I have in my home."

So, Debbie thought, what if she could combine the two -- the brush from the Wite-Out bottle and the color that the Sharpie provided, but in many more shades -- the shades of paint that home owners actually use? If she could create a pen, that could be filled at the time a room was painted, directly from a fresh can, and then simply stored in a drawer, she could freshen up her foyer in seconds.
Debbie Wiener and The Paint Pen
Debbie in the office, in September of 2012, consulting with her trusted advisor, Daisy.

The business is growing and that means more orders to fill every day. Here, Debbie works with Sharon, whom she calls "The Director and VP of Everything I Don't Do!"

In the summer of 2011, Debbie hired a professional painter to test drive a prototype paint pen.

The test drive revealed that the product worked beautifully, especially in tight spots, and small areas that just needed a quick touch up.

This is what a typical Sunday looked like in the Wiener household, in 2009, with Sam and Jacob watching football.

This is Jim -- "Slob-in-Chief" as Debbie lovingly calls him -- watching his beloved Yankees.

Jim and the boys have always loved their TV sports.

Debbie with Sam and Jacob at home in the spring of 2005.

Before inventing the Paint Pen, Debbie ran a successful design firm called "Designing Solutions," which focused on interior design that holds up to a real family. Here she is with a client in Alexandria, VA, in 2006.

Debbie with another client in Ashburn, VA. This was the first "dogproof" house she ever did, in the fall of 2009.

Sharon debuts the paint pen at the National Hardware Show, Las Vegas, May 2012.

Caitlin, Debbie's office director, graphic designer and business manager, helps promote the Paint Pen at the National Hardware Show, Las Vegas, May 2012.

A customer tries out the Paint Pen on a prepainted surface at The National Hardware Show.

A "glamour shot" of Debbie's very first "ready for prime time" paint pens.

The Paint Pen has made its way all across the country.

Debbie and her son, Sam, reflect on their success in the deserts of Wadi Rum, Jordan. Vacation paid for by Slobproof.

Jim joins Debbie in the office. Despite his many flaws, he knows a good thing when he sees it.

Once again, Debbie went to one of the slobs for inspiration -- her son Sam, who was now in business school at the University of Maryland. He sketched her vision and the two of them took it to the director of the school's entrepreneurial center.
"I would have been happy to just make it for myself and for some of the other mothers, but when he looked at the idea and said, 'I think you're going to make a lot of money with this,' that's when I thought, 'Maybe we have something here.' And that's when I started Googling."
Debbie wasn't an inventor by trade, but a little bit of research can go a long way -- and she found a plastic manufacturer who took her son's sketch and turned it into a mold. Once she saw her vision come to life, the colorful entrepreneur gave some samples to painters and to her real test market –- moms.
Oh, and one more person -- a writer at the New York Times.
"I thought it would take months to get their attention," Debbie said, "so I wrote to them before we actually had a shipment of Paint Pens. But when they said they wanted to do a piece right away, I wasn't going to tell them that!"
So on December 8th, 2011, the New York Times featured Debbie's little invention in their Home and Garden section and before she knew it, she had sold 10,000 pens. Fortunately, the shipment arrived by the first of the year -- just in time to fill those orders and to take a call from One King's Lane, a home décor website. Their CEO had seen the article and wanted to run a flash sale. The Slob-Proof Paint Pen became their biggest seller to date.
"I had the first run manufactured in pieces," Debbie remembered, "so there we were, the slobs and I, putting thousands of Paint Pens together in front of the TV! And with One King's Lane, they had to be shipped out within 48 hours. I had no idea how many we'd sell! That was my first big lesson. After that, I found a new supplier, so now the pens are shipped to us completely packaged."
This is good news, because later this year Debbie's Paint Pen will be available on Home Depot's website and in select Sherwin Williams stores. In less than a year, the little pen she designed to protect her own home has already brought in a quarter of a million dollars.

"Every time I was down on my knees with that Wite-Out, I knew there had to be a better way! I'm sure there were people who thought I was crazy, but I didn't ask their opinion.

"In life there are more people who will say no than will say yes. But I never let that stop me. I was never afraid to fail. I was just afraid not to try."
Add Marlo On Facebook:
Follow Marlo on Twitter:

Weekly Newsletter

Sign up to receive my email newsletter each week - It will keep you up-to-date on upcoming articles, Mondays with Marlo guests, videos, and more!

Sign up here