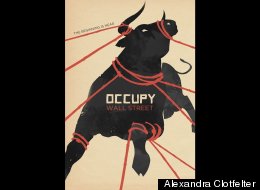 Today marks the one year anniversary of Occupy Wall Street, a favorite cause for heavy hitters in the visual and performing arts.
In quick succession last fall, rapper Talib Kweli performed a capella to support Occupiers' efforts during a rally, Philip Glass roused a crowd of protesters outside Lincoln Center with a reading from his opera Satyagraha, and Occupy Wall Street descended on Broadway, drawing a range of writers, actors, and directors who wanted to "take back the stage" with street performances.
For a look at OWS art so far, click through the slideshow below:
By New Yorker artist Eric Drooker (who also did the animation in "Howl")

Philip Glass reading the closing lines from his opera "Satyagraha," amplified through the human microphone at a Occupy Wall Street protest in December.

"Occupy Chairs," Sebastian Errazuriz.

The 24-hour pop-up show, "No Comment," was held in October 2011 in NYC.

The "Superheroes versus Economic Supervillains smackdown" staged by Gan Golan at OWS.

Artist Shepard Fairey's updated version of his iconic campaign poster for President Obama, in which Obama's face is covered with the Occupy/Anonymous Guy Fawkes mask. On his Web site, Fairey says it's meant to reflect his view of "Obama as a potential ally of the Occupy movement if the energy of the movement is perceived as constructive, not destructive."

The Rude Mechanical Orchestra's radical marching band and dance troupe.

By Savannah College art student Alexandra Clotfelter.

"Bat-signal," created by Mark Read.

"What The Market Will Bear," by Oregon-based ecologically-focused printmaker Roger Peet.

Also by R. Black.

Talib Kweli's a cappella performance at Occupy Wall Street.

Tom Morello from Rage Against The Machine performing at Occupy Wall Street.

Jeff Magnum performing at Occupy Wall Street.

By Australian comic illustrator Matt Hyunh.

Lady Liberty puppet at OWS.

By rock poster artist R. Black.

Created by Kansas-based muralist and designer Dave Loewenstein.
In New York, an OWS film festival is currently screening, and an exhibition of photographs from the first months of the movement is slated to run next month at the Governors Galleries. Meanwhile, the New York-based political theater company The Civilians continues to coordinate with theater troupes around the country on OWS-inspired cabarets.
What do you say, readers? How do you rate the art of OWS?