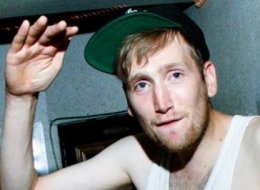 Peter Alexander, a British photographer, tragically died after falling through a third-story window at a London Fashion Week party in Shoreditch over the weekend.
Alexander, 28, was attending an event hosted by fashion and beauty PR company Blow when he and a 20-year-old male model both tumbled out one of the townhouse's windows, which was open but was covered with a set of blinds, the Evening Standard reports. While the model landed on a parked car and is recovering in the hospital, Alexander is believed to have died on impact.
The photographer, who has shown his work in the UK, the U.S.A. and Iceland, reportedly had only been at the party for 30 minutes and was sober, a friend said.
'We are all very distressed by the incident," said Michael Oliveira-Salac, an executive at Blow. "It is not an easy time. We have been provided little or no information as the police are still doing their investigation. Obviously our thoughts are with the families of the deceased and the injured man."
At New York Fashion Week in February, an elderly woman collapsed in the front row and was pronounced dead at Roosevelt Hospital.
So awful. Read more about this sad story over at the Standard.
Here's 10 other artists who died too young:
Jean-Michel Basquiat (1960-1988) began spray-painting graffiti in Manhattan under the pseudonym SAMO, and soon rose to fame for his radiant talent and undeniable coolness. His Neo-Expressionist works were raw and instinctual yet contained layers of coded clues. He died of a heroin overdose at only 27.

Egon Schiele (1890-1918) was a student of Klimt's who became known for his grotesque, intense self portraits. Contorting the body into something foreign and strange, the expressionist painter paved the way for artists like Francis Bacon and Lucien Freud. He died at 28 of a Spanish flu pandemic, three days after his wife.

Keith Haring (1958-1990) combined Disney level smiles with the hip style of the 1980's New York streets. His pop-street art was meant to reach as many people as possible, both in terms of intellectual accessibility and physical access. Haring died at 32 years old of AIDS.

Dash Snow (1981-2009) captured photos of the nights he would not remember the next day, immortalizing gritty but glorious moments of sex, drugs and violence. The young rebel of the art world struggled with heroin addiction and passed away of an overdose at only 27.

Although she was a popular model for Pre-Raphaelite Brothers like Millais, Elizabeth Siddal (1829-1862) was an artist in her own right. She was a longtime lover and muse of painter Dante Gabriel Rossetti. Although in her time she lived in the shadow of the men around her, Siddal's morbid, eerie paintings have earned her a reputation as an early feminist. She died of a Laudanum overdose at 32 years old.

Jeremy Blake (1971-2007) merged painting and film with dreamy, color-washed digital video works. His flat-screened hallucinations were featured in P.T. Anderson's 'Punch Drunk Love.' Blake died at 35 years old, seven days after the suicide of his girlfriend of 12 years Theresa Duncan. He was found off New York's Rockaway Beach, leaving the art world to postulate conspiracies behind the art darlings' double suicide.

Francesca Woodman (1958-1981) was a young surrealist photographer who captured her self-portait as female body trapped in domestic space. Her photography combines a childlike airiness, (or is it ghostlike?) with an undeniable feeling of darkness. She committed suicide at 22 years old by leaping out a window.

Vincent Van Gogh (1853-1890) revolutionized art with his post-Impressionist landscapes, self-portraits and depictions of the mundane. His iconic style mixed the roughness of middle class life with the simple honor of ancient Japanese minimalism, creating a balance between order and chaos that makes him one of the most famous artists of all time. As intense in life as he was in art, Van Gogh suffered a lifetime of mental illness and anxiety. He shot himself in the chest at 37, although speculation exists today that he was in fact murdered.

Felix Gonzalez-Torres (1957-1996) was a Cuban-born sculptor who used unconventional materials to create quiet and poetic works with intense intellectual and emotional effect. Much of his work commented on love and loss, specifically after his lover Ross died of AIDS. Gonzalez too died from the disease at 38 years old.

Giorgione, along with Titian, founded the Venetian school of Italian Renaissance painting. His paintings used lush and mysterious colors to evoke sensuous and almost surreal atmospheres. Only 6 works can be assuredly attributed to Giorgione; many were completed by other artists after his early death at 32, probably from the Black Death.