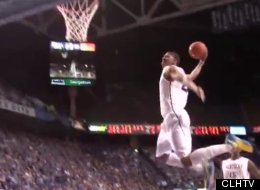 By Jose Martinez, Complex Sports

Anthony Davis is donning the Kentucky jersey once again.
No, he isn't returning to the Wildcats for his sophomore year. Instead, Davis took part in the Alumni Game—yes, it's the same one that the high school-educated Drake attended—and dropped 40 points against a very laid-back defense. But before you think that it was all dunks and layups, which you would be kinda right about, AD did stroke it a couple of times from long distance.
Hornets fans, you gotta be excited about seeing unibrowed one and Austin Rivers on the same court next season, right?
RELATED: The 20 Greatest Unibrows in Sports History
[via Pro Basketball Talk]
Follow @Complex_Sports on Twitter.