It's called funny money, but Leann Ward isn't laughing.
She received a fake $100 bill from a Walmart in Alpine Township, Mich., and the store refused to replace it, according to reports.
Now Ward is out the entire amount, just a month after Ward, her fiance and her 14-year-old son scraped by on $200 in disability plus food assistance, News 8 reported.
SCROLL DOWN FOR PHOTO OF THE BILL
The story emerged just days after Julia Garcia of Texas filed suit against Walmart for humiliating her over alleged counterfeit money. Employees tore up two $100 bills because they thought the money was counterfeit, she said. Turns out they were legal tender.
In the Michigan case, Ward used her state assistance Bridge Card in a transaction at Walmart, and received $100 back. But when she tried to use the bill to buy home supplies at the Menards store next door, the cashier detected the bill was counterfeit with a special pen, News 8 reported.
Ward returned to Walmart to exchange the bill for a real one, and the store refused to replace the currency because she had left the building, reports say.
Although the arrival of a Social Security check has eased her budget concerns a bit, she's still worried: "We have to do without now," she told the TV station.
So just how do you detect counterfeit dough to avoid Ward's predicament? According to Secret Service.gov, telltale signs of funny money include when the red and blue fibers appear printed on the paper rather than genuinely embedded in it, and when the portrait is more "lifeless and flat" than the vivid real deal.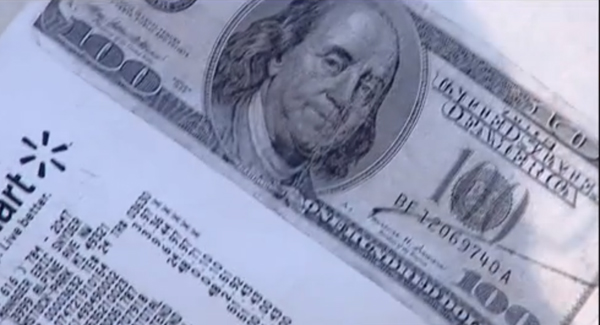 (News 8)


Check out some other nightmarish stories that involve Walmart:
Loading Slideshow
Walmart Calls Police On School Chorus

A Walmart in Florida complained to police of a <a href="http://www.huffingtonpost.com/2012/09/13/walmart-school-choir-911-flash-mob_n_1882146.html?1347571795" target="_hplink">"flash mob situation" after a school choir sang "God Bless America"</a> in memorial of the Septemeber 11th, 2001 attacks, the <em>Sun-Sentinel</em> reports.

Couple Arrested For Sexual Activity In Walmart

Julian R. Call, 22, and Tina F. Gianakon, 35, were arrested for <a href="http://www.huffingtonpost.com/2012/08/01/walmart-sex-arrest-couple_n_1728834.html?utm_hp_ref=walmart" target="_hplink">engaging in sexual activity</a> in front of fellow shoppers at a Kansas Walmart after stealing K-Y Jelly.

Pension Fund Boycotted Walmart For Poor Labor Practices

Netherlands' biggest pension fund -- it holds over $300 billion in assets -- <a href="http://www.huffingtonpost.com/2012/01/05/walmart-blacklist-abp-pension-fund_n_1186384.html" target="_hplink">pulled its investments from Walmart for not abiding</a> with the United Nations' Global Compact principles, which relate to human rights, labor standards, the environment and anti-corruption efforts.

Walmart Involved In Mexico Bribery Campaign

When Walmart senior executives found out that Walmart de Mexico <a href="http://www.huffingtonpost.com/2012/04/21/wal-mart-mexico-bribes_n_1442951.html" target="_hplink">had allegedly been involved in a bribery campaign </a>to open new stores, they then allegedly covered it up.

Walmart Threatened To Fire Mormon Worker For Observing Sabbath

A Mormon assistant manager at Walmart, who had been <a href="http://www.huffingtonpost.com/2012/06/05/walmart-threatened-to-fire-mormon-worker-observing-sabbath_n_1572088.html" target="_hplink">observing the Sabbath as an employee</a> for more than ten years, faced disciplinary action after a change in their scheduling rules no longer accommodated his observance.

Man Died After Brawl With Walmart Security

Jose Marcos Picazo <a href="http://www.huffingtonpost.com/2012/06/05/man-dies-after-fight-with_n_1570121.html" target="_hplink">suspiciously died after Walmart security </a>guards in California arrested him for alleged shoplifting.

Walmart Lobbied To Change Anti-Bribery Laws

Walmart was involved in <a href="http://www.huffingtonpost.com/2012/04/24/wal-mart-bribery-scandal-lobbying_n_1450873.html" target="_hplink">a lobbying campaign to weaken</a> the Foreign Corrupt Practices Act, which was meant to reduce liability for bribing foreign officials.

Walmart Involved In Many Sex Discrimination Suits

Walmart has been involved in a number of ongoing lawsuits for discrimination against<a href="http://www.huffingtonpost.com/2012/01/24/walmart-sex-discrimination-supreme-court_n_1227352.html" target="_hplink"> female employees. Some of the allegations </a>have included derogatory language at the workplace, unfair promotion practices and pay discrimination.

Walmart Customer Injured Others To Win Black Friday Deals

A woman wanted <a href="http://www.huffingtonpost.com/2011/11/25/walmart-pepper-spray-black-friday_n_1112548.html" target="_hplink">cheap Black Friday deals on Walmart </a>electronics so badly that she used pepper spray on a crowd at a Los Angeles Walmart. Twenty people were injured.

Walmart Contractor Sued For Labor Law Violations

Warehouse workers in California sued a contractor that works with Walmart for labor law violations, including poor labor conditions, shortchanging pay and threatening <a href="http://www.huffingtonpost.com/2011/10/18/walmart-warehouse-workers-lawsuit_n_1018143.html" target="_hplink"> to fire them for complaining about anything.</a>

Walmart Exposed For Political Lobbying To Weaken Labor, Whistleblower And Environmental Laws

New York City public advocate Bill de Blasio recently launched 6degreesofwalmart.com to expose Walmart secret <a href="http://www.huffingtonpost.com/2012/05/04/walmart-bill-de-blasio_n_1477814.html" target="_hplink">political spending</a>, meant to influence the political process in a number of ways, including reducing protection for workers, whistleblowers and the environment.

Walmart Employee Shot Supervisor, Killed Himself

A Walmart employee at a distribution center in Virginia shot and <a href="http://www.huffingtonpost.com/2012/02/22/walmart-shooting-virginia-distribution-center_n_1294267.html" target="_hplink">wounded his female supervisor</a> right before he killed himself.