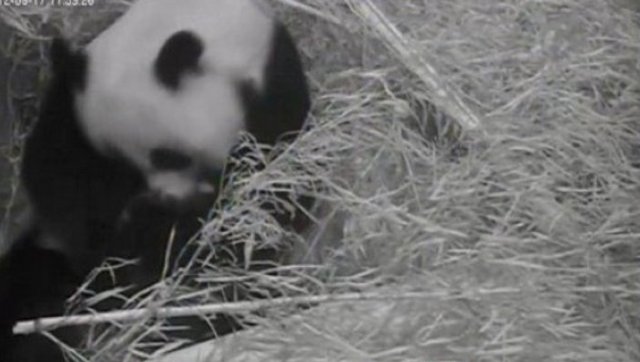 National Zoo/Pandacam
WASHINGTON -- See that little speck of white that mama panda Mei Xiang is cradling under her chin? That's her brand new baby! (Yeah, the baby's not so easy to see; he or she -- we won't know the sex for at least a few weeks -- is only about 4 ounces big now.)
And when you do spot the little one, who will be named on Dec. 24, the National Zoo is asking that you get a screen grab and tweet it to @NationalZoo with the hashtag #cubwatch:
As you can see in the impossibly cute slideshow below, some photos have started coming in. As you can see from the fact that the slideshow is very short, not enough people are spending all their time glued to the Panda Cams.
You probably don't need more enticement, but in case you do, the new baby is said to be quite vocal:
For those concerned about the new baby's wellbeing, the Zoo issued a media statement on Tuesday saying that mother and child seem both to be doing well. Zookeepers report that they've seen evidence the nursing and that Mei Xiang is exhibiting "excellent maternal behaviors," being "prompt to cradle and groom the cub."
Baby Panda Spotted On Panda Cam
FOLLOW HUFFPOST