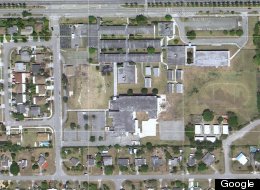 Police lifted a lock down on a Homestead school around 3:10 p.m. after students were kept inside since earlier Tuesday morning, three fleeing suspects reportedly ran inside, Local 10 reports.
Miami-Dade Police told CBS Miami that the suspects were driving a white U-Haul truck before bailing from the vehicle during a pursuit and running into Leisure City K-8 Center. NBC Miami reports two suspects are in custody, though it is not clear if any were among those who ran into the school.
WSVN reports that the suspects were involved in an alleged burglary.
Lincoln Marti and Leisure City Elementary are also locked down as a precaution, according to CBS Miami.
Local 10 is streaming live video from the scene.
Witnesses tweeting from the scene said the school as swarming with law enforcement:
@oz_mon

ozone
@RhiannonAlly
somethings going down at leisure city elementary, cops everywhere guns drawn dogs out cop on top of roofs.
This is a developing story and will be updated.