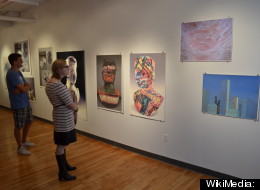 Students at OCAD University in Toronto, Canada are looking in vain for pictures in their art history textbook and for sense in the rule that says they have to pay $180 for it, according to Techdirt.com.
The publisher could not get print clearance on copyrighted images from Stokstad and Drucker Images in time for the semester.
Brent Ashley, the father of a student enrolled in the class, wrote on his blog, "If I am going to have to pay $180 for an art history book that is of no resale value to next year's students, it had damn well better be an excellent visual reference with hard cover and full color plates, to keep around for years, festooning my coffee table and that of my heirs."
According to the course description of Global Visual and Material Culture, Prehistory to 1800, the "lecture course surveys a broad range of art, design and material culture artifacts and practices beginning with the earliest recorded creative expressions of human culture to the Industrial Revolution in Europe.
"Students will study key examples using these artifacts and practices to achieve a thematic comprehension of the political structures, social mores, and cosmological beliefs that inform world cultures."
Students enrolled in the class started an online petition on ipetitions.com:
To ask[…] students -- who, mind you, are already paying thousands of dollars -- to pay $180.00 plus tax for a temporary textbook that does not have any pictures of the pieces we will be studying is preposterous. Pictures are essential for studying art history, needless to say. And giving us an extra online resource of the photos to go with the purchase of a textbook is really not enough.
The university defended the requirement, saying the book is custom produced for the class and combines three textbooks, which range from $65 to $144 into one book.
OCAD University is a public university in Toronto and is Canada's oldest and largest school for art and design with a student population of just over 4,000, according to its website.
Take a look at a preview page, and tell us how you'd respond.
Also on HuffPost College, check out the coolest campus art installations.
Coolest On Campus Art Installations
Finished in June 2012, Do Ho Suh's "Fallen Star" is located on one of the UC San Diego's engineering buildings. It's a house hanging off a seven story building and as Do Ho Suh said himself, "It's something that's very out of context." It's fully furnished with a yard and garden accompanying it on the roof of the building.

In 2005, artist J. Ignacio Diaz de Rabago created an installation in the UC Berkeley's Doe and Moffitt libraries. These flying books were his way to experiment with the idea of being freeing of gravity.

Tufts' Medford/Somerville campus is a home to a five foot long bronze acorn created by Leslie Fry. The installation is a way to intertwine humans with the natural world and as Fry says herself the "sculpture is about human consciousness rooted in nature".

On Locust Walk at University of Pennsylvania, artist Ko Siu Lan installed a series of signs in both Chinese and English that were inspired by "China's reality." According to Siu Lan, "It's more for people to think about the general daily life, human condition, political and social. It's really signage for people to ask questions and to think signage we see everywhere in daily life, no matter what countries you're from." This is just one sign while others read "Caution Democracy," "Having Fun Prohibited" or "Beware of Everything".

At Oregon State Univeristy, artist Patrick Dougherty, created large stick figures by weaving together limbs and stems from local trees. This is just one of four university campuses that Dougherty has created an installation on and only one of about 200 locations world wide.

This relaxing art installation was created at Wayne State University and was winner of a campus competition earlier this year by Joe LaLonde, BFA Sculpture. According to LaLonde, "I wanted to provide a fabricated form with a natural feel that invites people to relax across it and seek some reprieve and rehabilitation from poor posture."

Created by Peter Wegner, at Stanford University's Graduate Business School, the best way to describe this installation is "a computer-controlled array of 2,048 "flip digit" modules like those on departure and arrival boards at European train stations, but with colored cards instead of letters and numbers."