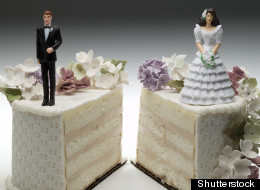 This week, UK resident Hayley Wakenshaw won £1,800 (roughly US$2,950) toward legal fees in her divorce in a "Win A Divorce" competition that had almost 200 entries.
In a press release, the winner said, "I entered the competition with my tongue firmly in cheek, not thinking for a second I'd win. I laughed solidly for an hour after getting the call to tell me I'd won the prize –- of all the competitions to win, this has to be the most surreal."
Wakenshaw was married to her Dutch ex-husband for four years -- they had previously lived together outside of Amsterdam for almost 16 years -- before they split in 2012.
Paul Graham, Managing Director of MaritalAffair.co.uk, which sponsored the contest, said: "It's wonderful to think we've changed someone's life for the better by freeing them from the shackles of the often-unaffordable divorce process."
A 2006 survey estimated that Brits spend an average of £1,800 on divorce legal fees -- hence the amount of prize money awarded.
Earlier this year, a similar "Win A Divorce" competition was sponsored by a New Zealand radio station. The station offered to pay for a 31-year-old man named Sam's divorce if he agreed to break the news to his unsuspecting wife on the air on Valentine's Day. "Sam" turned out to be a lesbian who was pranking the radio station with her partner Amber because they were "disgusted" by the competition.

Believe it or not, this is hardly the first weird divorce story we've heard. Click through the slides below to see more strange-but-true divorce tales.
Is it appropriate to ask your ex to return a gift post-divorce? This Long Island surgeon certainly thinks so. He gave his wife a kidney while they were married. But after she filed for divorce in July 2005, he wanted it back.

A young Italian groom was so unready to leave his mother's side, he brought her on his honeymoon in January this year. His unimpressed bride asked for a divorce three weeks later.

Steve Killeen and his wife already had a dog, but she wanted more pets. One day, she saw photos of baby goats online and decided she had to have one. But after they split in October 2009, her ex-husband got her goat. Literally.

This couple agreed to divorce in 2007, but neither would move out their marital home. Tired of their arguments, a judge ordered the couple to split the house in half--by building a wall through it.

This woman got married at age 30, but told her husband she was just 24. Ten years into their marriage, in November 2007, he found out about the lie--and asked for a divorce.

One man failed to pay child support, to the tune of $14,000, last June. To control his spending, a judge took away his TV, internet, magazine, cell phone and newspaper privileges.

What would you do if your pet bird started to say things like "divorce" or "be patient"? In June 2001, those phrases proved to one woman that her husband had been unfaithful--and that was grounds for divorce.

This couple had a hard time deciding who would get the farm after they split in 2008. To solve the problem--and ensure that his ex-wife got her fair share--this farmer used a grinder to cut his farm equipment in half.

Size mattered too much for this man. His wife split in 2008 after a prosthetic penis extension snapped off during sex.

After divorcing his wife of 18 years in October 2008, Moeun Sarim wanted exactly 50 percent of his marital assets. To collect his share, he gathered up his tools, called his relatives for help and sawed his house in half. His ex-wife still lives on her side.