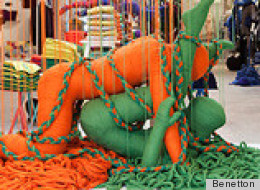 Some NSFW yarn art at a Benetton pop-up store in the Soho neighborhood of New York is getting tangled up (see what we did there?) in controversy.
The controversy is going down (heh) at the Art of Knit, Benetton's fall/winter pop-up shop which features a plethora of yarn art created by artist Erik Ravelo. One of the most titillating pieces is one called "Lana Sutra" that depicts a couple mid-sex position amidst the racks of brightly colored sweaters, pants and tees.
It's certainly an arresting artwork, but some parents are mad about what's, uh, popped up in the pop-up store. RackedNY spotted a debate raging on photographer Sam Horine's Instagram account over whether the yarn couple is crossing the line.
"It certainly is a very confronting image, but I believe our children see things just as confronting on music videos," one commenter writes. "Most kids won't even realise what they are seeing when they see this display. And if they do, it's probably time to teach them a little bit about the facts of life."
"I choose to remain vigilant in protecting & preserving my children's innocence," another argued. "They have a right to it and I'm not letting this corrupt society dictate it!"
Benetton, of course, is no stranger to controversy. In 2011, the international retail chain made headlines around the world when it released its "UNHATE" campaign, a series of photo-manipulated ads depicting world leaders kissing. (The campaign later won an award at the Cannes Film Festival.)
Check out the yarn art below... are YOU traumatized?
NSFW (sort of?) PHOTOS: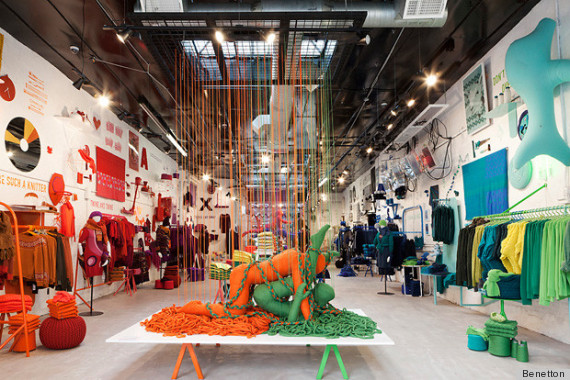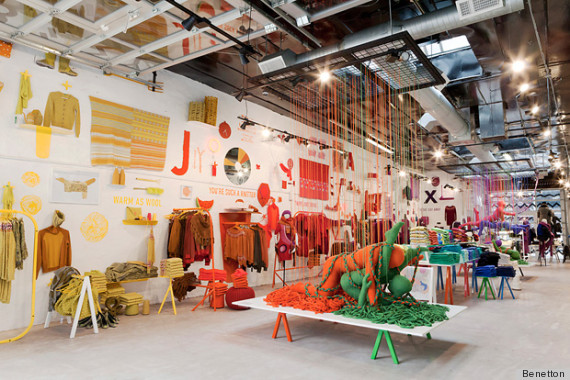 St. Patrick's Day-themed SB Dunk Low "Black and Tan" sneakers by Nike incite outrage from Irish community.

As part of the brand's "Far East" collection, the "Sexy Little Geisha" outfit came complete with a removable obi belt.

"Eat Less" t-shirts aren't well received by, well, most people.

"Truly Madly Deeply Kiss Me" t-shirt offends Irish groups.

Asian caricature t-shirts caused outrage in California.

Some Irish groups aren't pleased with this "Irish Yoga" trucker hat.

Retailer gets in trouble for its "Jewish Star" t-shirt.

"Wink Wink" and "Eye Candy" thongs for 10-year olds isn't a hit with all parents.

"New Mexico, Cleaner than Regular Mexico" t-shirts didn't go over well. (AP photo)

Ditto this "Truly Madly Deeply Irish Drunk" scoop tank.

"Color for the hair down there" is not received well.

"How to catch an illegal immigrant" shirt

"Cuntier" hats spoof Cartier logo.

Jeremy Scott designed these "handcuffs" sneakers for Adidas. However, after many complained that the cuffs looked more like shackles, Adidas canceled its plans to sell the shoes.

Urban Outfitters thought it was a good idea to sell this shirt to its young demographic (with a lot of them being younger than 21).

Skin-lightening wash targets consumers with dark colored privates.
Want more? Be sure to check out HuffPost Style on Twitter, Facebook, Tumblr and Pinterest.