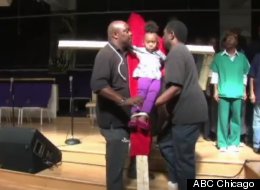 The Chicago Teachers Union voted to suspend their strike Tuesday after a standoff over contract negotiations that kept public school students out of the classroom for seven days.
While many parents and community members expressed support for the teachers' mission, others voiced concern that Chicago's students were caught in the middle, missing out on class time.
But few took their objections to such lengths as Bishop Larry Trotter of Sweet Holy Spirit, whose Baptist church has had a strong presence on the Southeast Side of Chicago for decades.
Hoping to return attention from the teachers strike to the needs of students, Trotter staged a demonstration Tuesday where he tied his 4-year-old granddaughter to a 7-foot cross to symbolize that Chicago Public School children's "education is being crucified and their future is being crucified," CBS Chicago reports.
Sweet Holy Spirit was one of many safe havens that offered programming and childcare for students affected by the strike, ABC Chicago reports. Trotter told the station that volunteers, parents and children were losing hope Tuesday before teachers voted to return to their classrooms later that day.
Did Trotter's demonstration go too far? Share your thoughts in the comments.