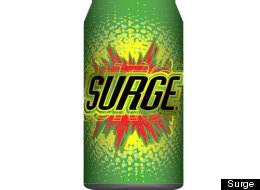 We were floored when BuzzFeed featured a can of Surge soda -- which was taken off the market in 2002 -- being sold for $99.99 on eBay.
But it turns out the market for discontinued sodas is far more varied (and expensive) than we'd previously thought. A perusal of eBay revealed a ton more offerings, including 20 oz. bottles of Surge and guaraná-laced Josta, each selling for $250.
Seriously, who's buying this stuff? We feel the need to point out that they're probably not safe to drink -- some of these cans are decades past their expiration date. But, we can't knock the nostalgia factor.
Speaking of which, we could really go for some Crystal Pepsi right now.
Click through the below gallery for some of the craziest mark-ups on discontinued sodas we've ever seen.
7 Discontinued Sodas That Now Cost A Fortune
We can't get over the market for unopened Surge products, which were produced between 1996 and 2002. A recent eBay search yielded a 20 oz. bottle going for $250 and a 12 oz. can for $99.99. Let caffeine enthusiasts everywhere rejoice!

Josta, a "high-energy drink" with guaraná and caffeine from Pepsi, appeared on shelves in 1995 and all-but disappeared by 1999, but it lives on online -- for the bargain price of $250.

Vault was likely an elementary school teacher's worst nightmare. It picked up where Surge left off -- it was, after all, made with many of the same ingredients. Its tagline, "Drinks like a Soda, Kicks like an Energy Drink," probably didn't help much either. Relive your hopped-up memories of sugar-addled childhood with two 12-can soda packs for the starting bid of $130.

Crystal Pepsi graced the American market between 1992 and 1993. A 16 oz. bottle of the caffeine-free cola now goes for a whopping $125 on eBay.

We're pretty sure Hubba Bubba bubble gum-flavored soda was discontinued in the early '90s after being enjoyed by absolutely no one. You can, however, get a can of it for $29.99.

Available for a brief time in some test markets in 1991, Pepsi Tropical Chill and Pepsi Strawberry Burst didn't quite make the cut. But, that isn't stopping someone from selling a can of each for $39.99.

Remember Orbitz soda? The drink, which featured small edible floating balls, made its debut in 1997 and disappeared soon after.You can get three unopened bottles on eBay for $29.99.